2020 Rewind of Castro Lighting
---
We all agree that 2020 was an atypical year, right? A year that seemed to be a promising brilliant year with Castro Lighting on major international fairs has IMM Cologne and Maison & Objet. While the brand took strong steps to make 2020 a year of evolution and success, the Corona Virus pandemic occurred. However, that did not make Castro Lighting team stop. With a look focused on the future and aim to deliver high-quality lighting fixtures, the team joined all their efforts to collaborate and deliver luxurious pieces for the most special projects.
With that set, we would like to introduce you to this unique rewind of the brand together with strong partners in this review of success with the ambition to achieve a legacy in luxury lighting.
JANUARY
IMM Cologne 2020
was as innovative and promising as expected!
Castro Lighting
presented a
new catalogue
filled with creativity and elegance. The brand remains passionate about lighting design and stood through the signs of time.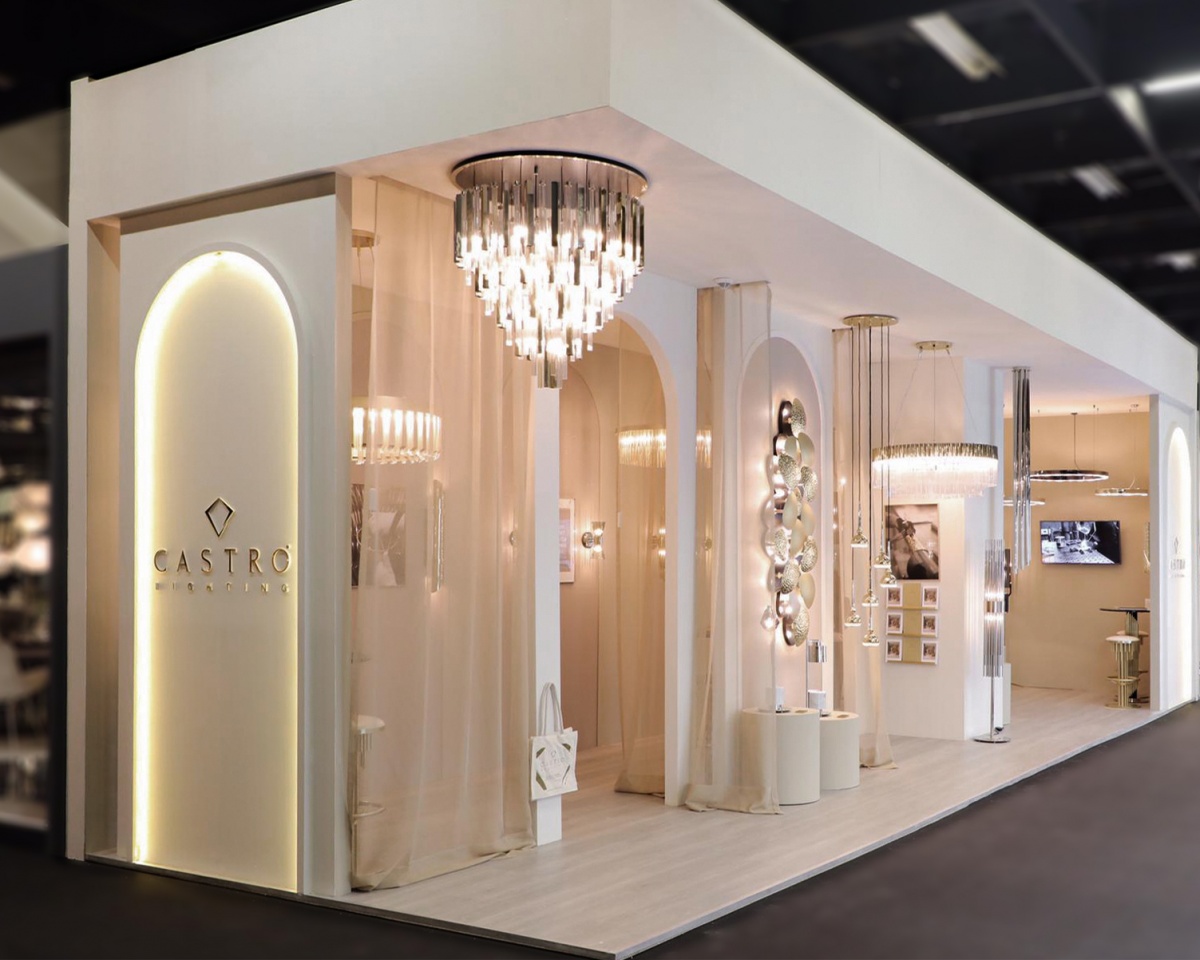 Maison et Objet (M&O) is one of the main events for professionals of the living industry, in all its varied possibilities, from decoration, design, furniture, accessories, textiles, to fragrances, world of children, tableware, fashion and an infinity of other options.
The January edition indeed showcased trends of the global market and displayed the creativity and unique solutions of the industry to its visitors.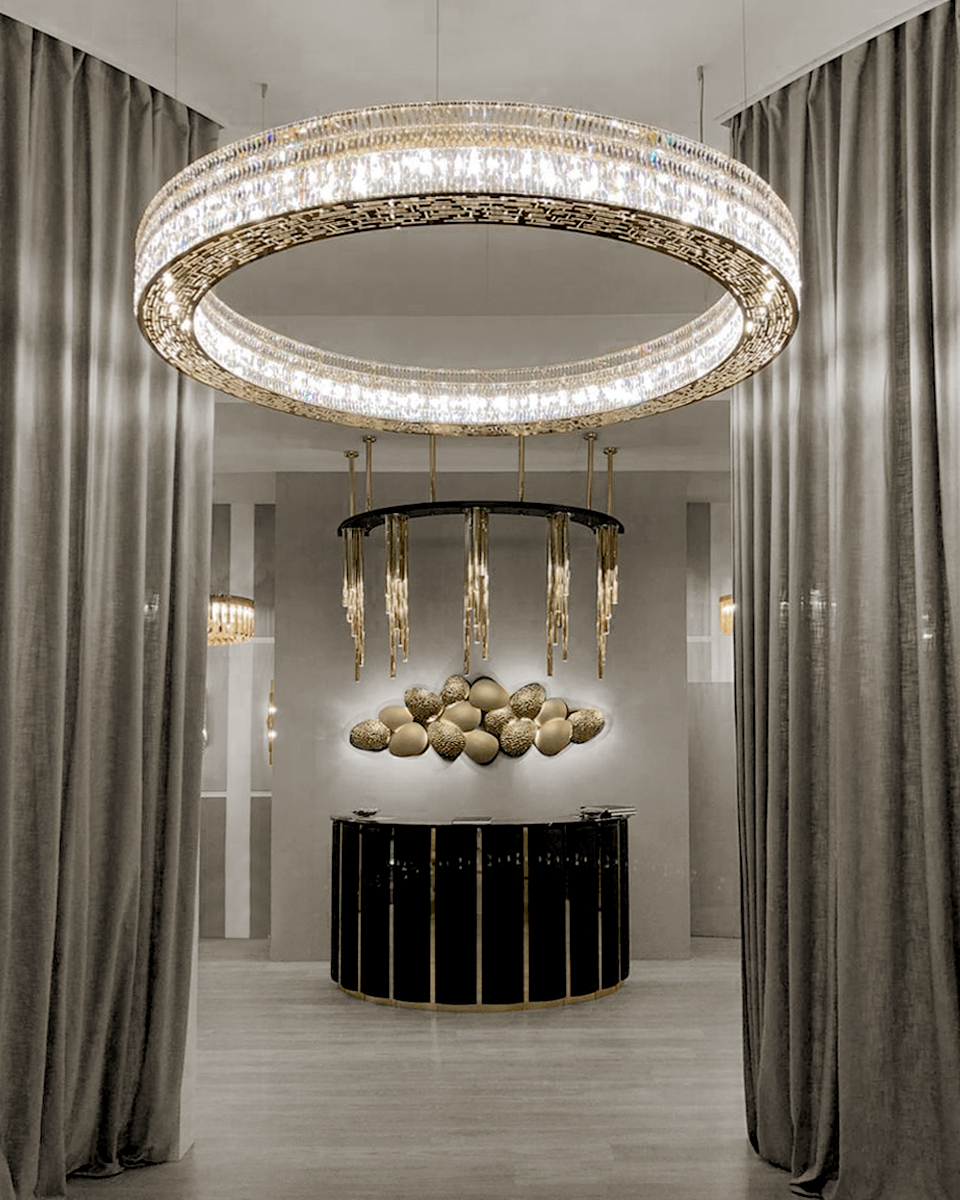 NEW COLLECTIONS
During Maison et Objet - January edition, Castro Lighting announced Penelope and Charlotte Collections thought-out to fulfil the brand's long-lasting desire to enter the interior design space. Both Collections emerged from a sense of renewed vision and the will to attend our client's needs.
Penelope Chair
Designed with outstanding handcrafting skills and high-quality materials and fabrics, Penelope was conceived with one purpose: Give any interior space the lavishness it requires. Meet Penelope.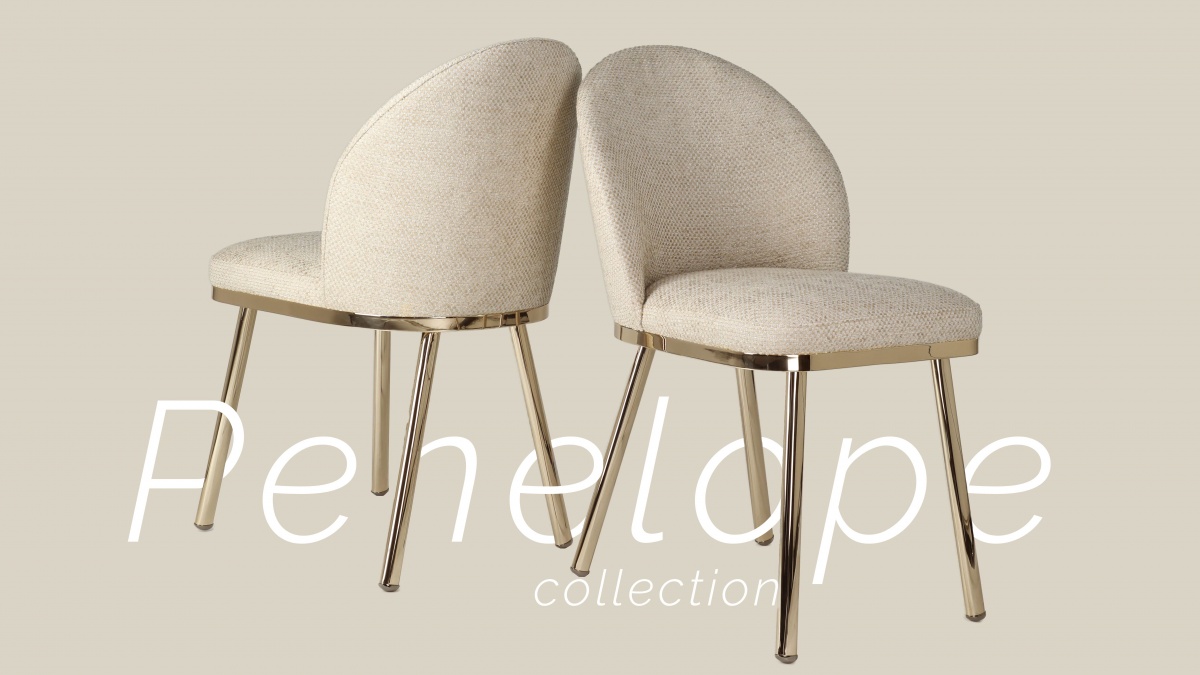 Charlotte Collection
Charlotte defines the image that the brand wants to pursuit. Its materials are of unprecedented quality, and as for its marble, it has an unique feeling to it: Meet Charlotte Dining & Bar Table.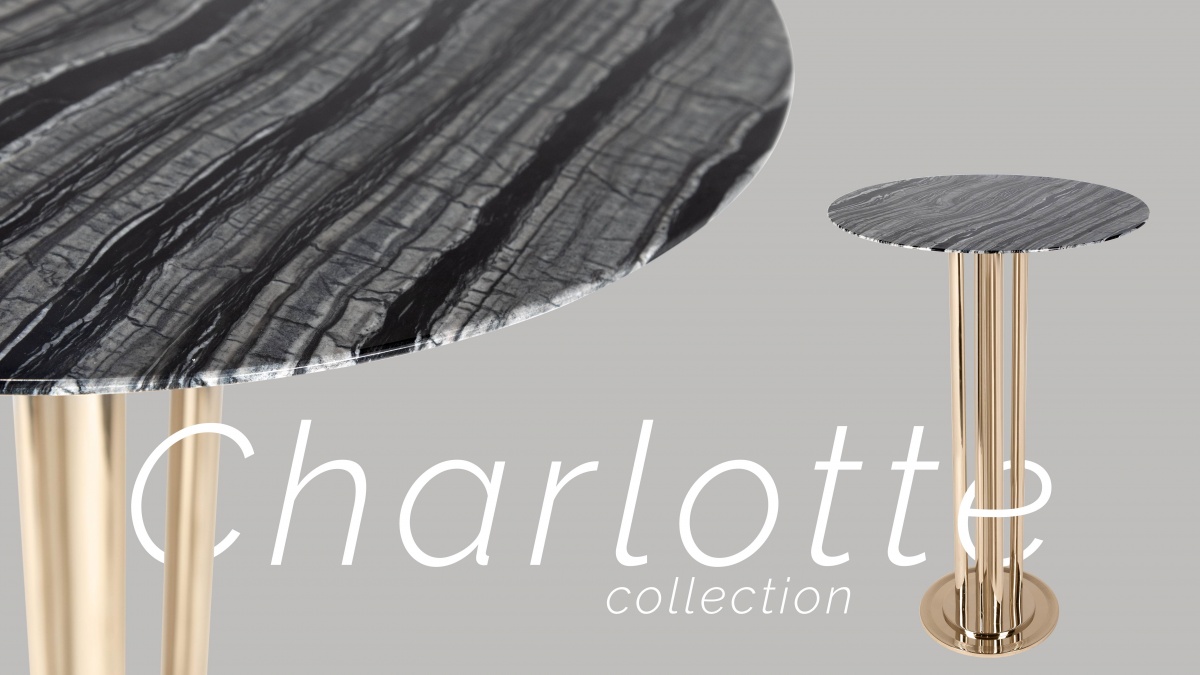 FEBRUARY
February brought to us, residential and hospitality interior design projects that brought the best of several partnerships we have with some talented interior design firms.
Symmetrical in design, this Room design features a rich palette, highlighting Pantone's colour of the year, Classic Blue combined with beautiful gold metallic tones. This place creates a perfect balance between classic and contemporary. Catching the light in the living-room project, the textured metallic wallpaper acts as the perfect backdrop to the stunning console table design, emphasising a beautiful gold lamp and statement styling accessories. The Room Design, is harmonised with an elegant variation of rich tones and textures, completed with intricate styling pieces to create a truly luxurious area for the client.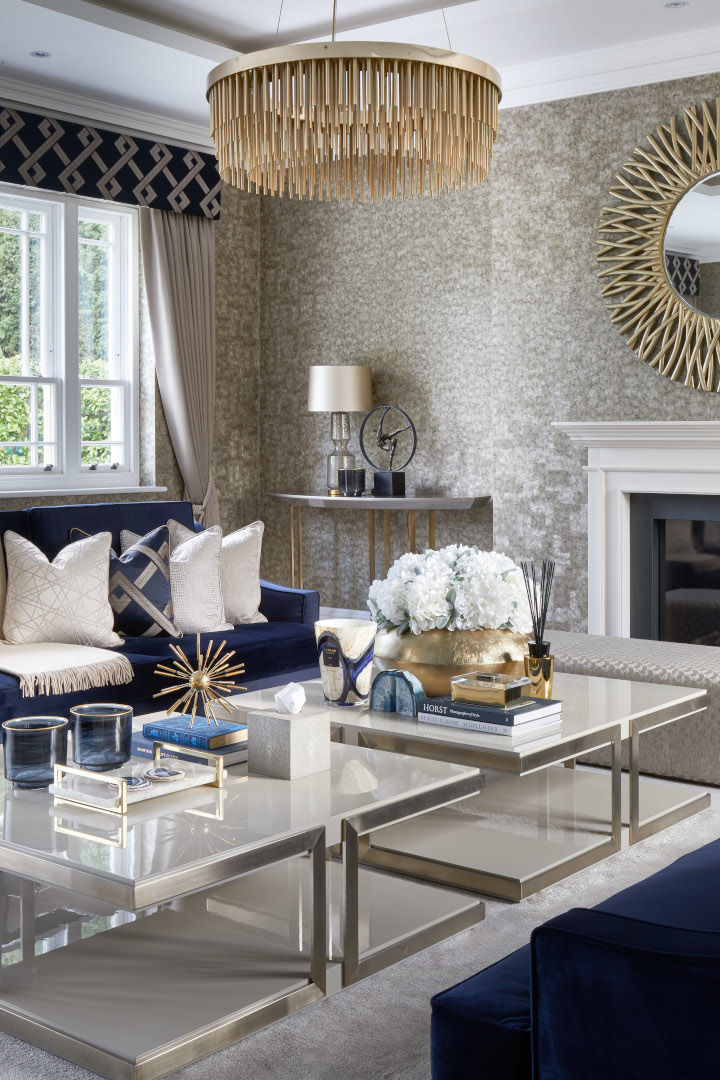 This astonishing art gallery, in Switzerland, fullfils all its visitors needs with groundbreaking paintings.
Castro Lighting's design were chosen to give this space the lighting glamour it requires to meet the expectations of those who visit this gallery.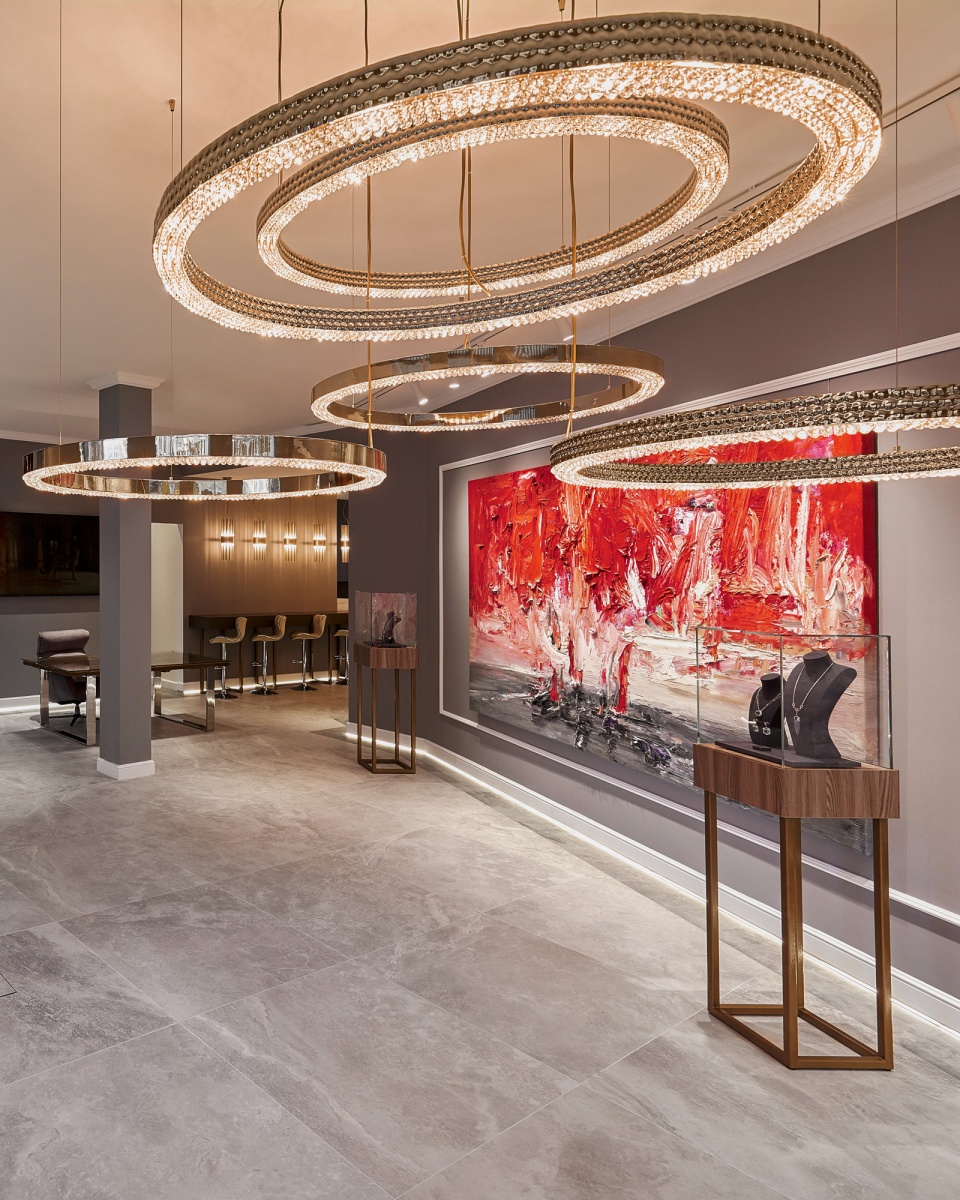 MARCH
Re-design!
Metis Suspension
One of the most up to date best collections of Castro Lighting had a few re-designs revealing its multipurpose of finding new ways of redisigning this specific lighting collection to other possibilities.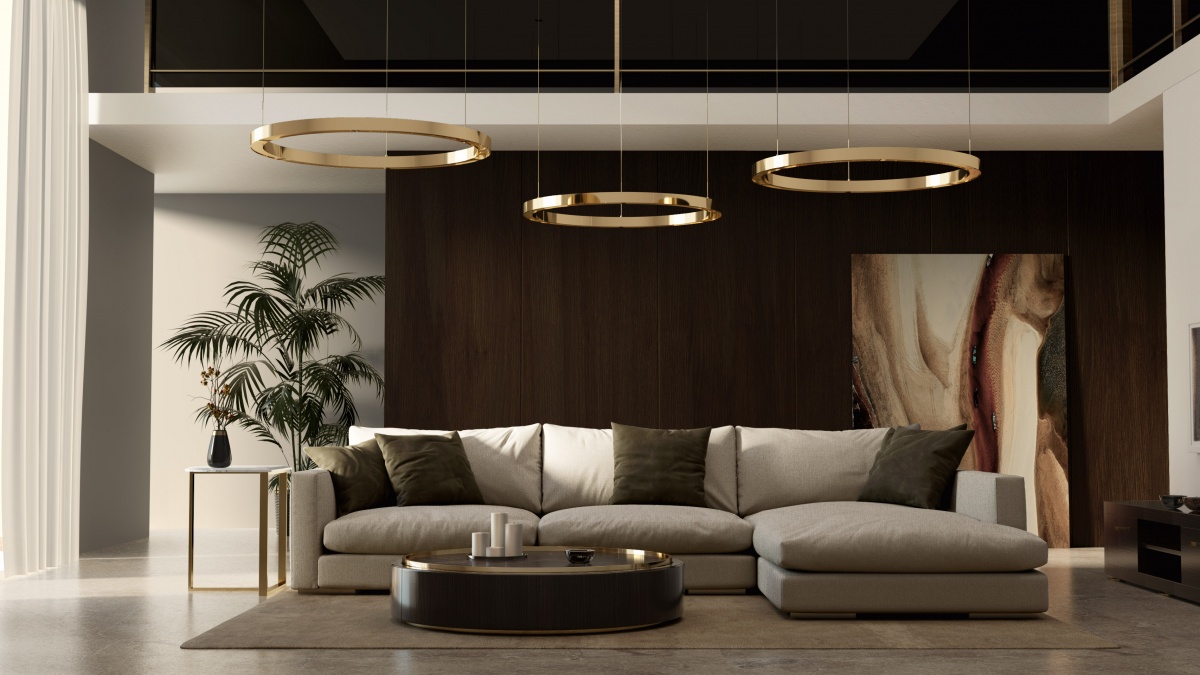 This version of Metis Suspension without crystals is simple yet graceful. It is designed to bring a special allure and sensuality to your interior design project.
APRIL
Gianna Center Table
Gianna Center Table is a feminine inspired furniture design with more than an attractive silhouette to present. It illustrates a charismatic attitude that is handcrafted with great care and attention to the smallest details in order to showcase the sophistication of this decorative piece.
Victoria Side Table
Inspired by this queen Victoria fierceness, the seductive Victoria Side Table transcends traditional and modern boundaries as each artistic feature is handcrafted from the finest materials by our professional artisans. This bespoke piece has even more value as the production methods that are used preserve traditional handcrafting techniques, being able to deliver the ultimate piece with the highest quality possible.
Blossom Stool
Embrace the spirit of the relaxed spring atmosphere, feel the magic and plunge into lazy Sunday sunshine, as warm as the light airy breeze. The life-affirming yellow colour and gold brass combo is the finest match to fit the refined art-deco style. Smooth texture on top and pleated full-circle main element accomplished with the polished brass finish create a luxurious interior concept of this lifestyle masterpiece.
MAY
Roma Mirror
Roma Mirror is the elegant symbol of confidence and boldness. With an ambitious focus on simplicity, cleanlines, and raw materials, it celebrates a sleek modern design. Being embodied in the form of conceptually, visually, and artistically completed circle, this furniture feature suggests a fresh take on contemporary elegance.
Gaya Bookshelf
Gaya Bookshelf is a bespoke accessory to complement a set-up of a spacious living room, bedroom, or study, as a shelf full of books and decorative objects provides instant appeal to anyroom. This empowering design was made to inspire decorate boldly and intriguing, one can be a perfect "home" for your favourite novels, biographies,and beloved short story collections.
Metis Snooker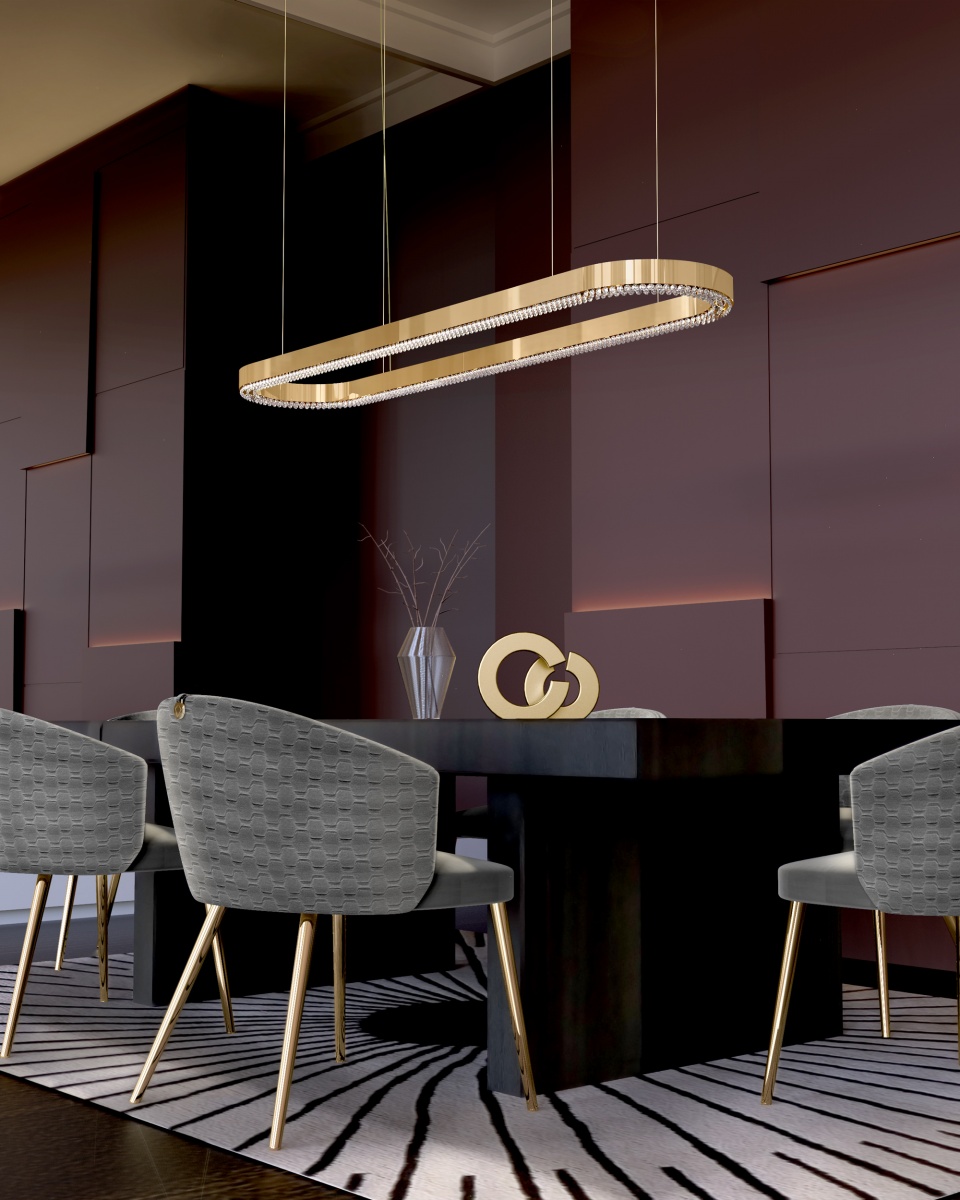 This rectangular version of Metis is a signature adaptation of the original design, with handmade hammering by Castro Lighting's experienced and passionate craftsman.
A luxury living room, using a neutral palette of colours combined with Green Natural tones and opened air elements for a relaxed, calming feel, in Russia.
A project by Natalya Glukhova from Vybor Design, featuring Royal Suspension and Metis Suspension.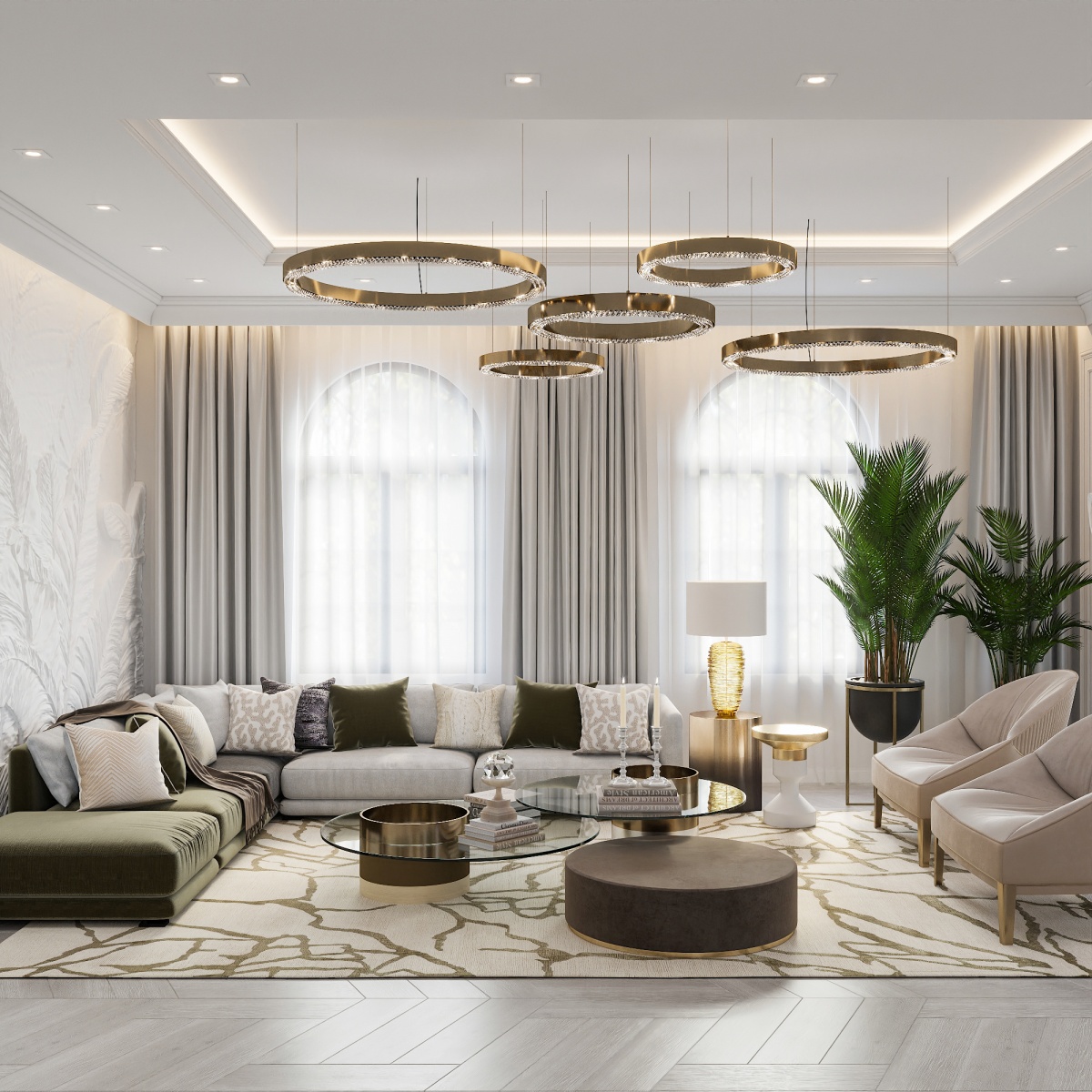 JUNE
Zenith Suspension
Falling in love with this stars-like piece, Designer Inês Silva, conceived this suspension to be the center attention of your décor space. Highlighting the natural shape of a group of stars forming this minimalistic but strong-will suspension. Zenith Suspension fixture is all made in brass with a mixture of black nickel and gold finishes.
JULY
Chiara Armchair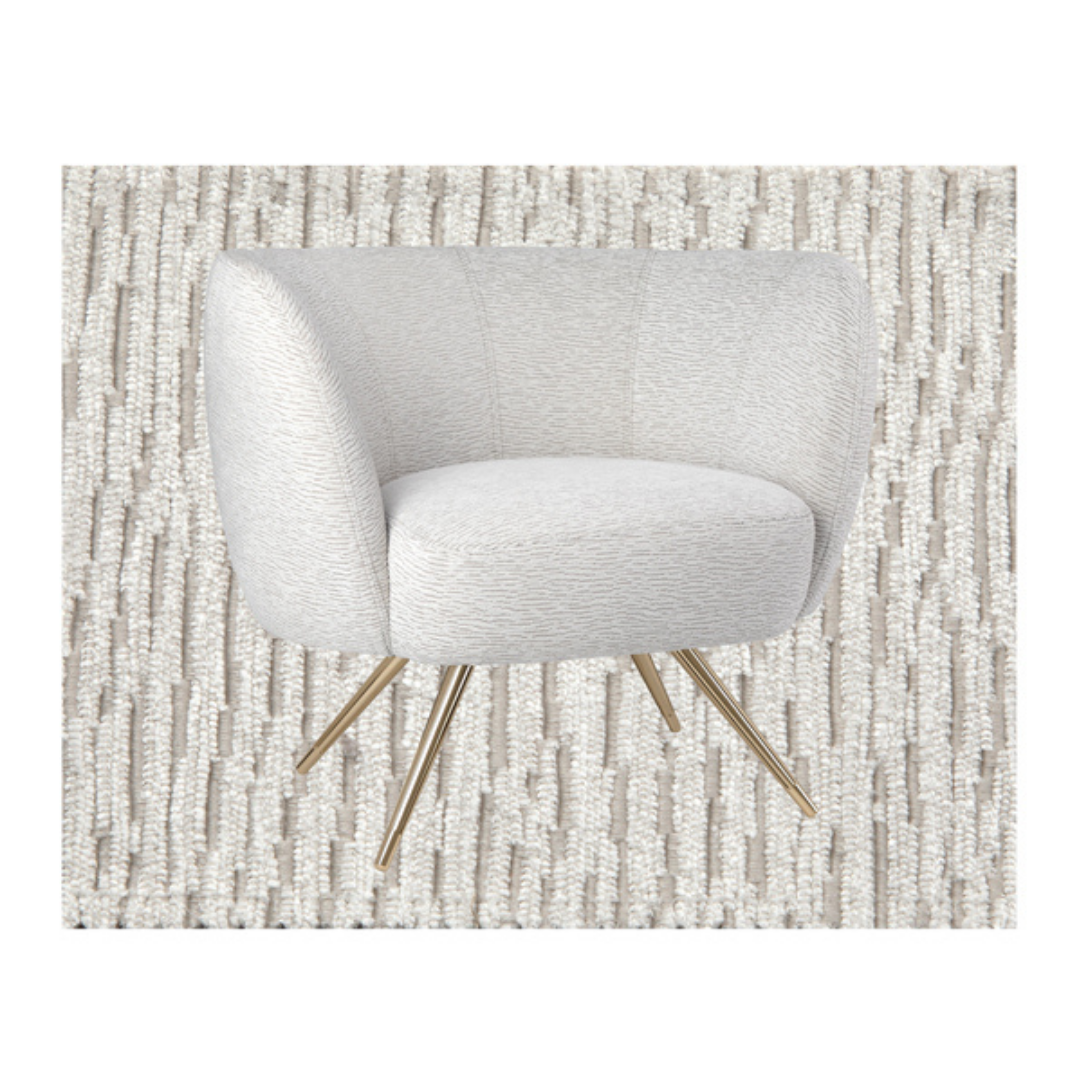 Chiara Armchair expresses the embodiment of beauty and grace itself. This stunning furniture design showcases a fusion of contemporary style and classic elegance of art deco, steeped in excellent Portuguese craftsmanship.
Nolan Wall Lamp
One stunning project between many other works of art from ALTA IDEA, an Ukrainian Interior Design Studio that once again managed to deliver fascinating home furnishings. The recruitment of splendor, glamour, and elegance throughout wall lighting designs, which helped to achieve a sophisticated appearance at this space resembling a Parisian apartment.
A true inspiration featuring Streamline Wall Lamp and Triumph Wall Lamp.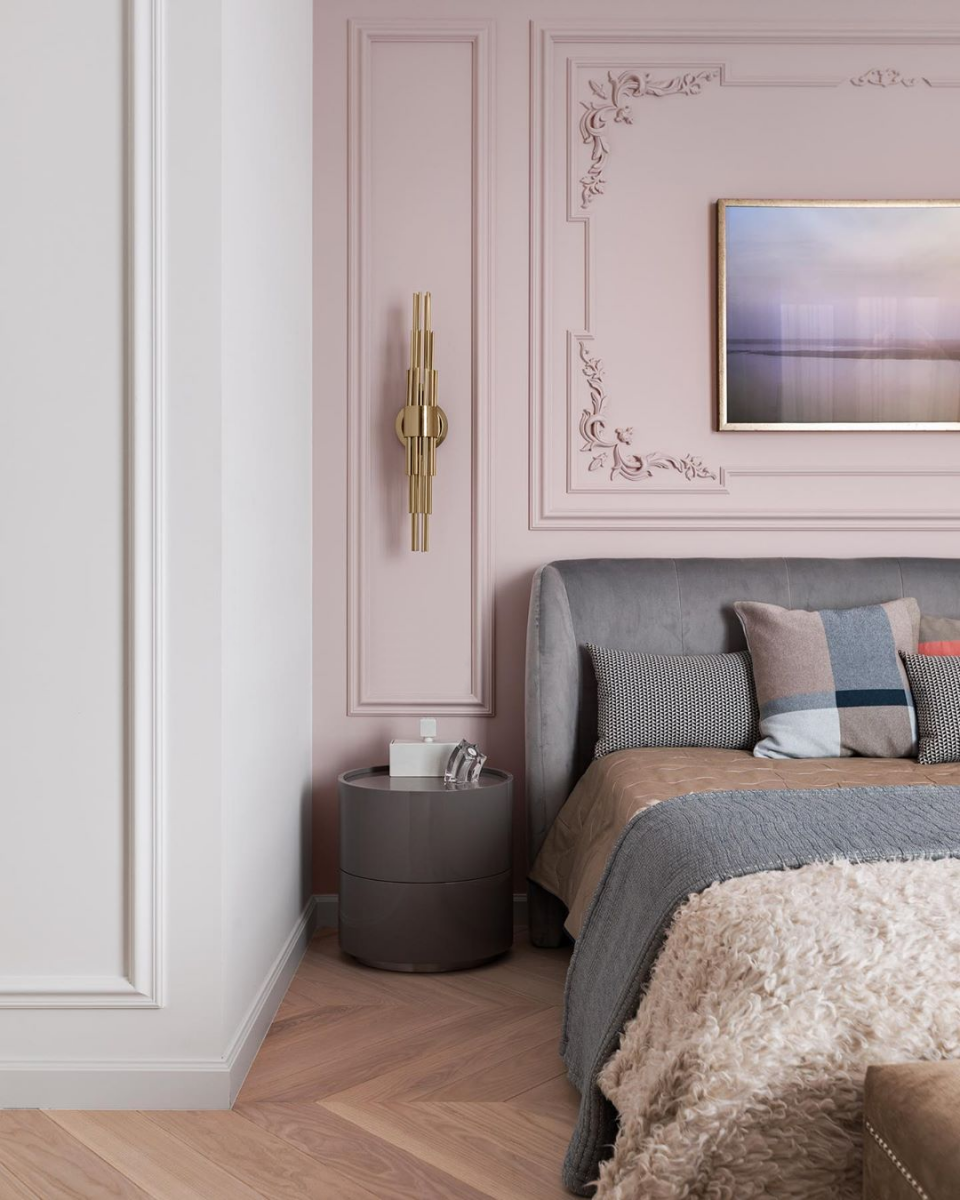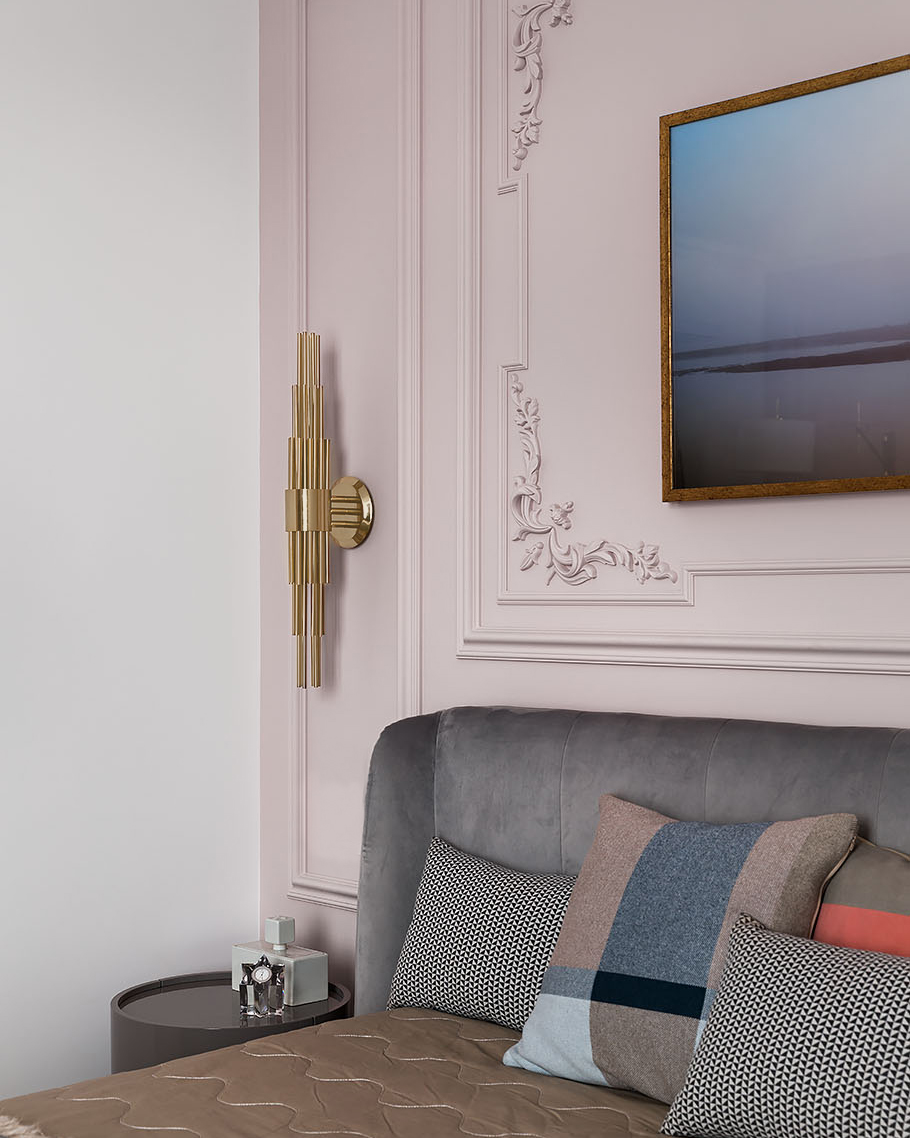 AUGUST
Clé de Maison residential interior design project. A perfect combination of Art Deco & Pop Art elements. One of our best partnership's, that inspire us to develop and deliver designs to give magic to interior wonders like these. A true inspiration featuring Lotus Suspension and refined contemporary elements.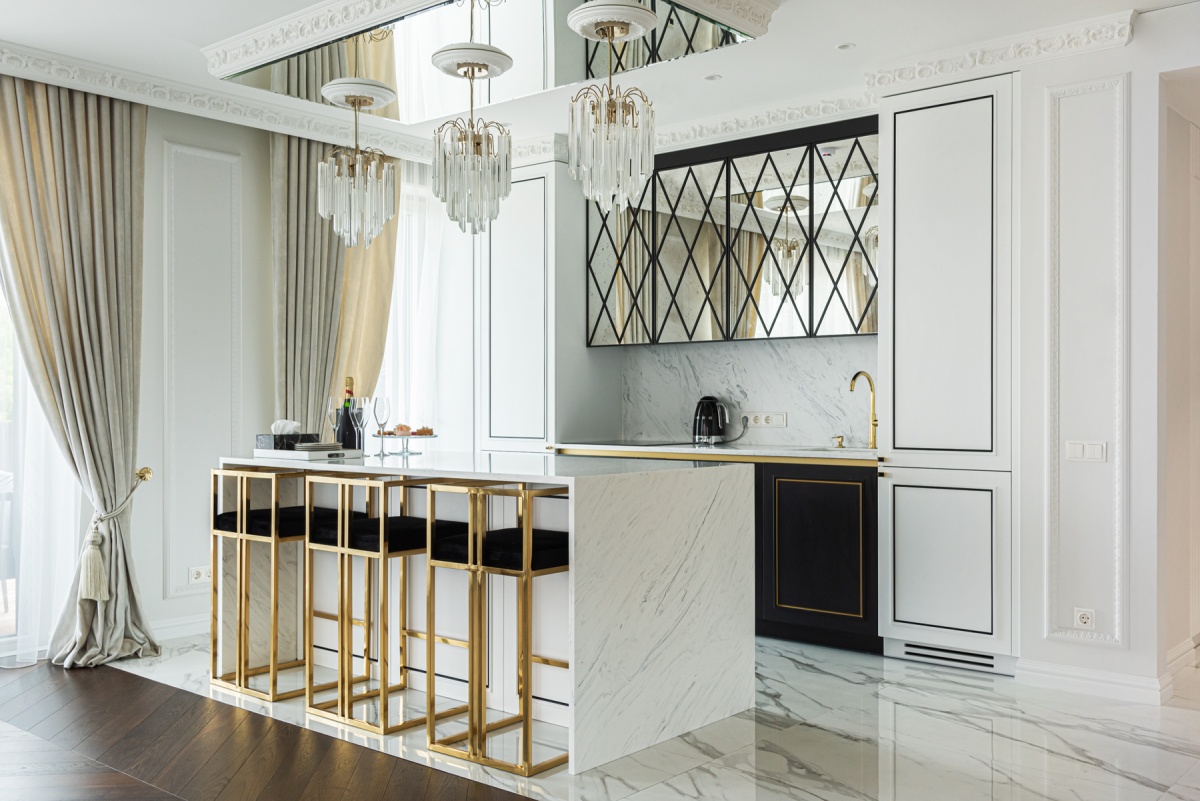 A luxurious contemporary Interior Project, in London, by Brompton Cross Construction.
Evolutionary designed and thought according to an evolutionary concept, inserted in apartment project. This one involved the fusion of two flat houses into a beautiful and spacious home suitable for a large family.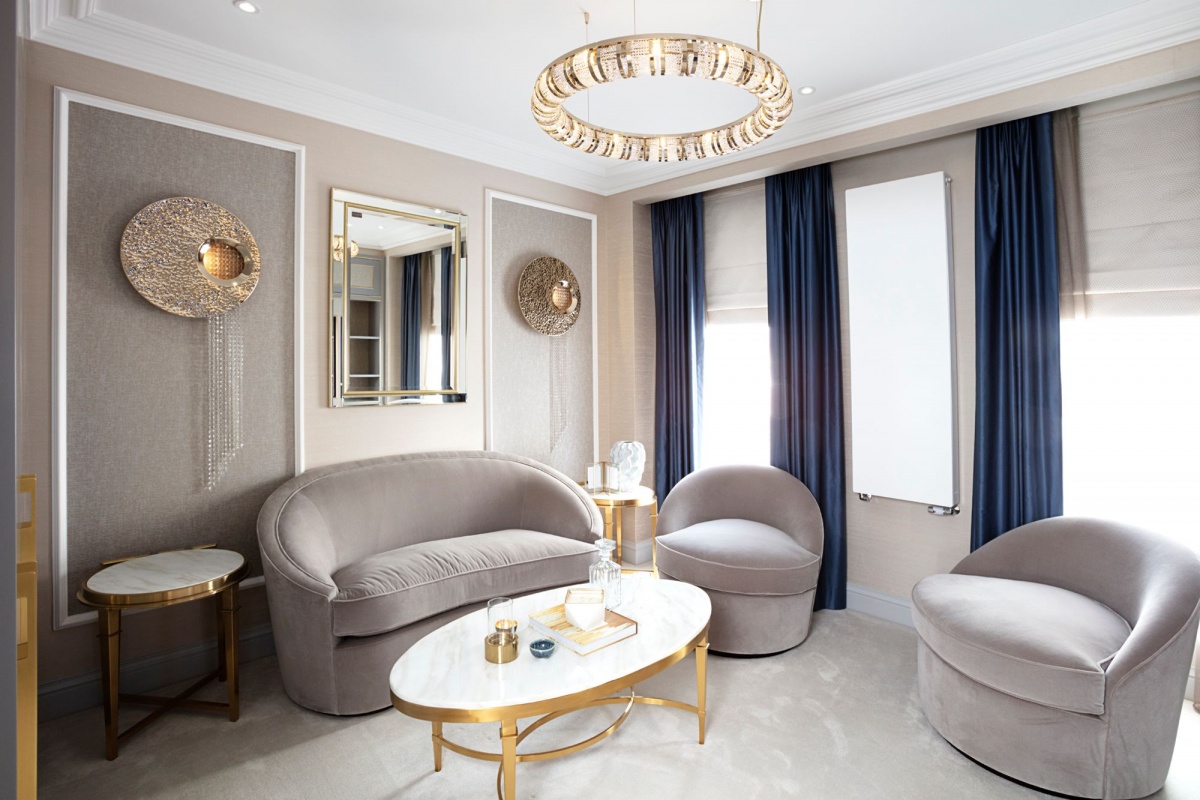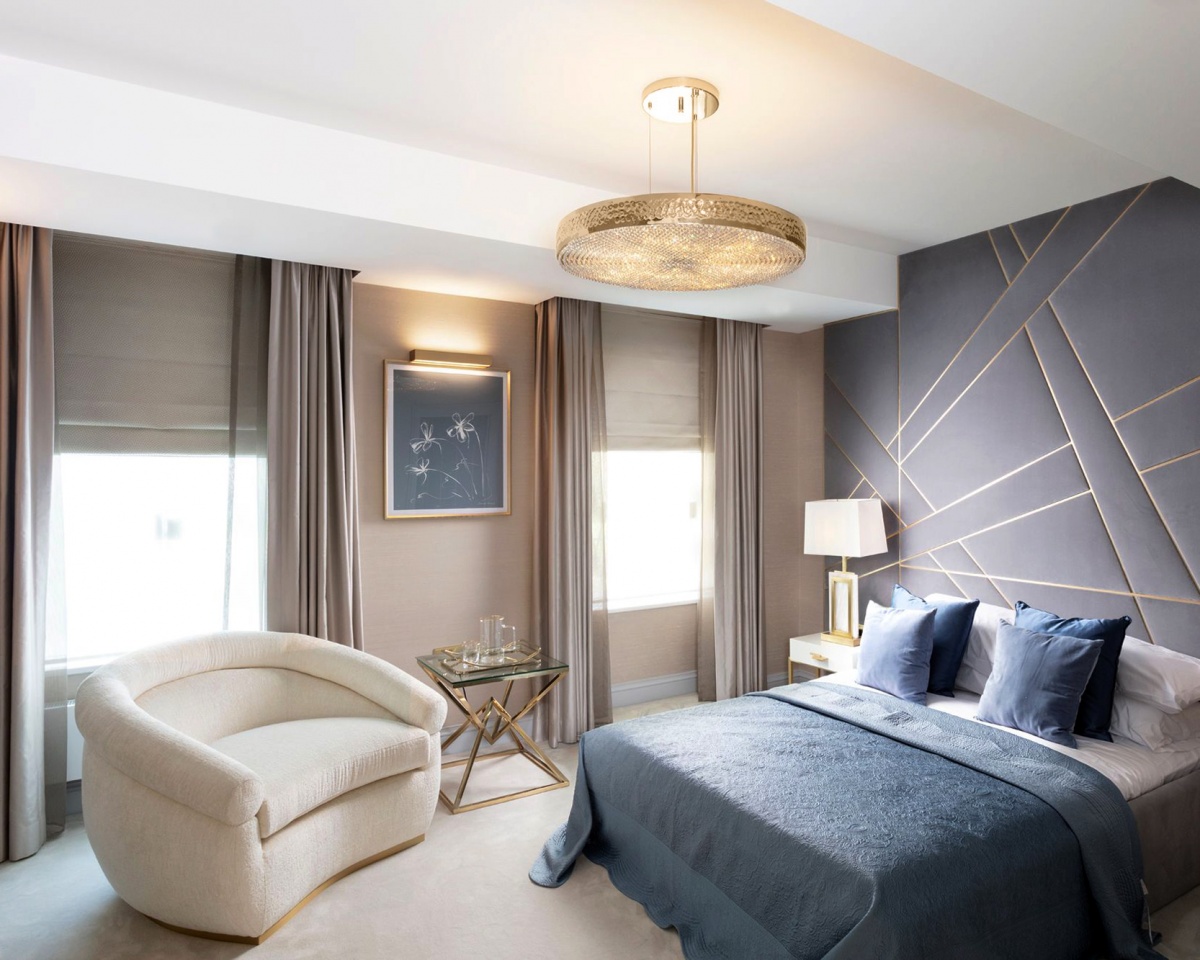 It highlights all the lavish details of the Mondrian Collection, combining it with client's choices of colours, furniture, and luxury décor accessories.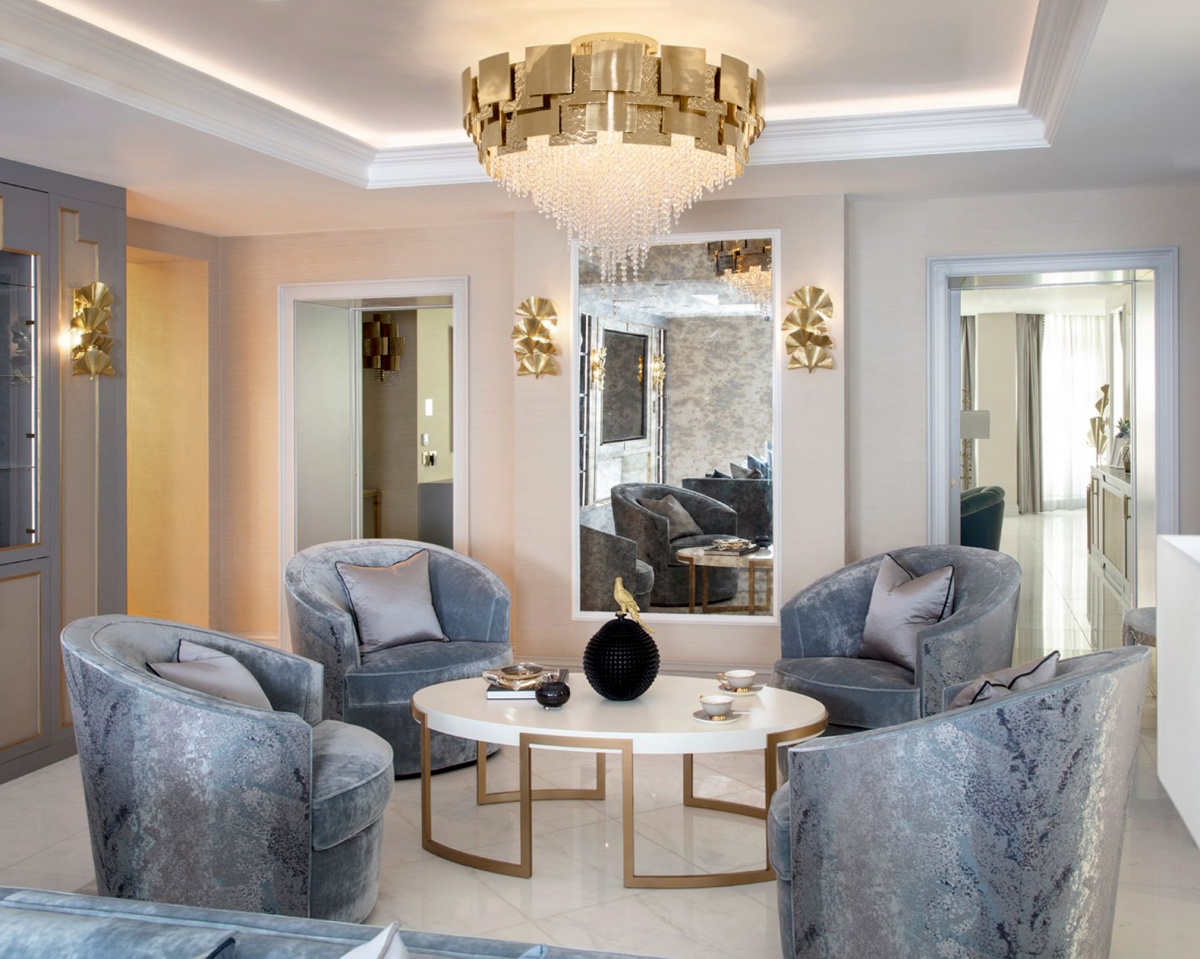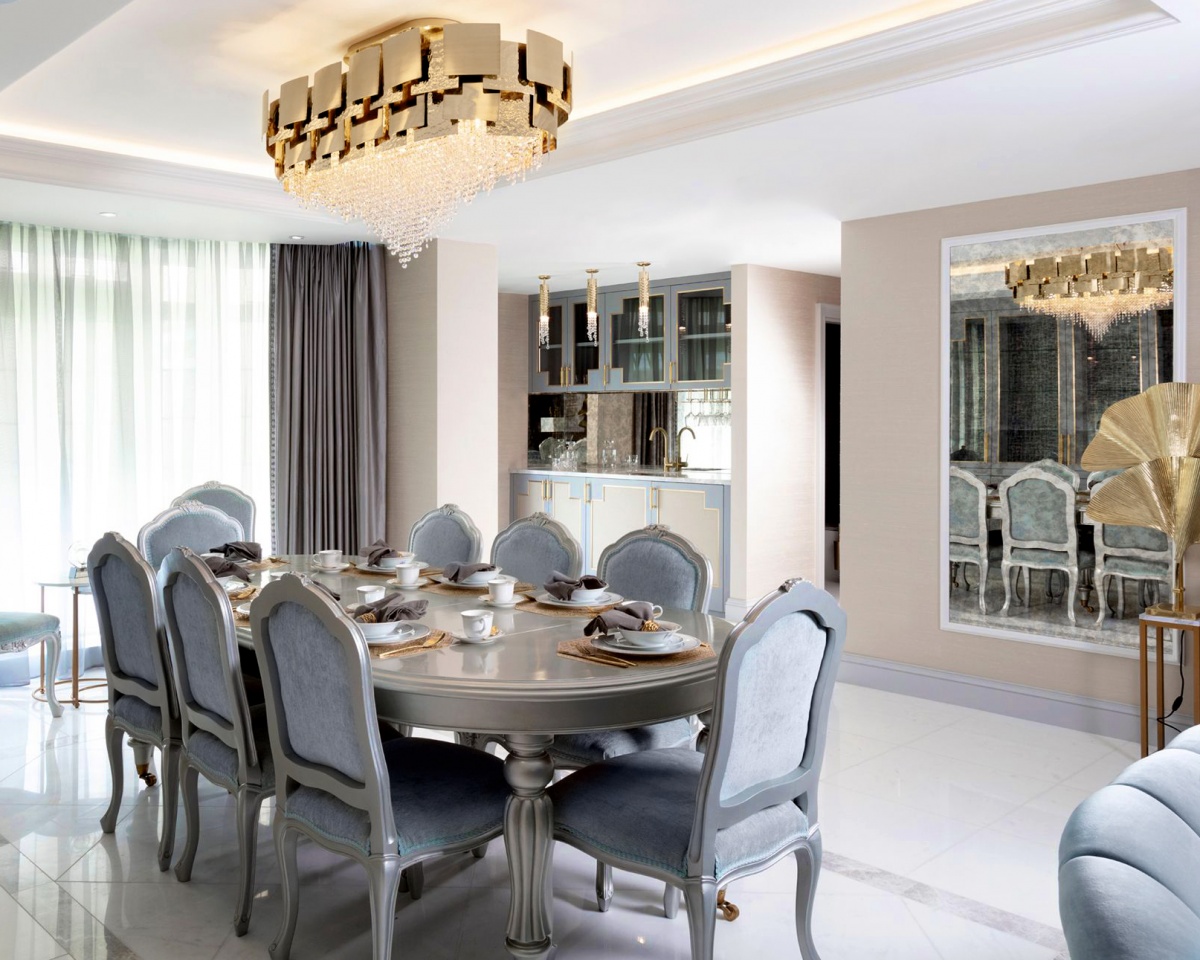 Get inspired by this beautiful AD Italia article and let's cultivate together the luxurious art of living at its finest. Plunge into some kind of magic that will make any modern ambience relaxing and light-filled, providing the warmth and alluring comfort.
"Halo Pendant by Castro Lighting is the ideal lighting fixture for the bedroom (and beyond). Perfect for the relaxed environment of the bedchamber, where you can create special and charismatic atmosphere. Made of gold-plated brass, it has modern and elegant lines" – writes Silvia Cicchetti.
SEPTEMBER
Maison et Objet 4-18 September 2020
As you might know, Maison et Objet (M&O) is one of the major events for professionals of the living industry, in all its varied possibilities – from decoration, design, furniture, textiles, to home fragrances, fashion accessories and an infinity of other options. Due to the Corona Virus crysis this year wasn't possible for us to be gathered again and embrace design. Fortunatly, the event presented and showcased a digital fair where every brand and designer can feature their designs and collections throughout digital showrooms and use the fantastic MoM Platform to gain inspiration. The brand will be there among the best of the industry, ready to lock and load with breath-taking designs, seducing you into the world of charming luxury lifestyle and lighting designs.
A luxurious contemporary Interior Project, with accents of classic influence, in Romania, by Bohemian Design.
It highlights all the lavish details of the Avolto Pendant, Triumph Table Lamp & Mondrian Collection, combining it with the interior designer choices of colours, furniture, and luxury décor accessories.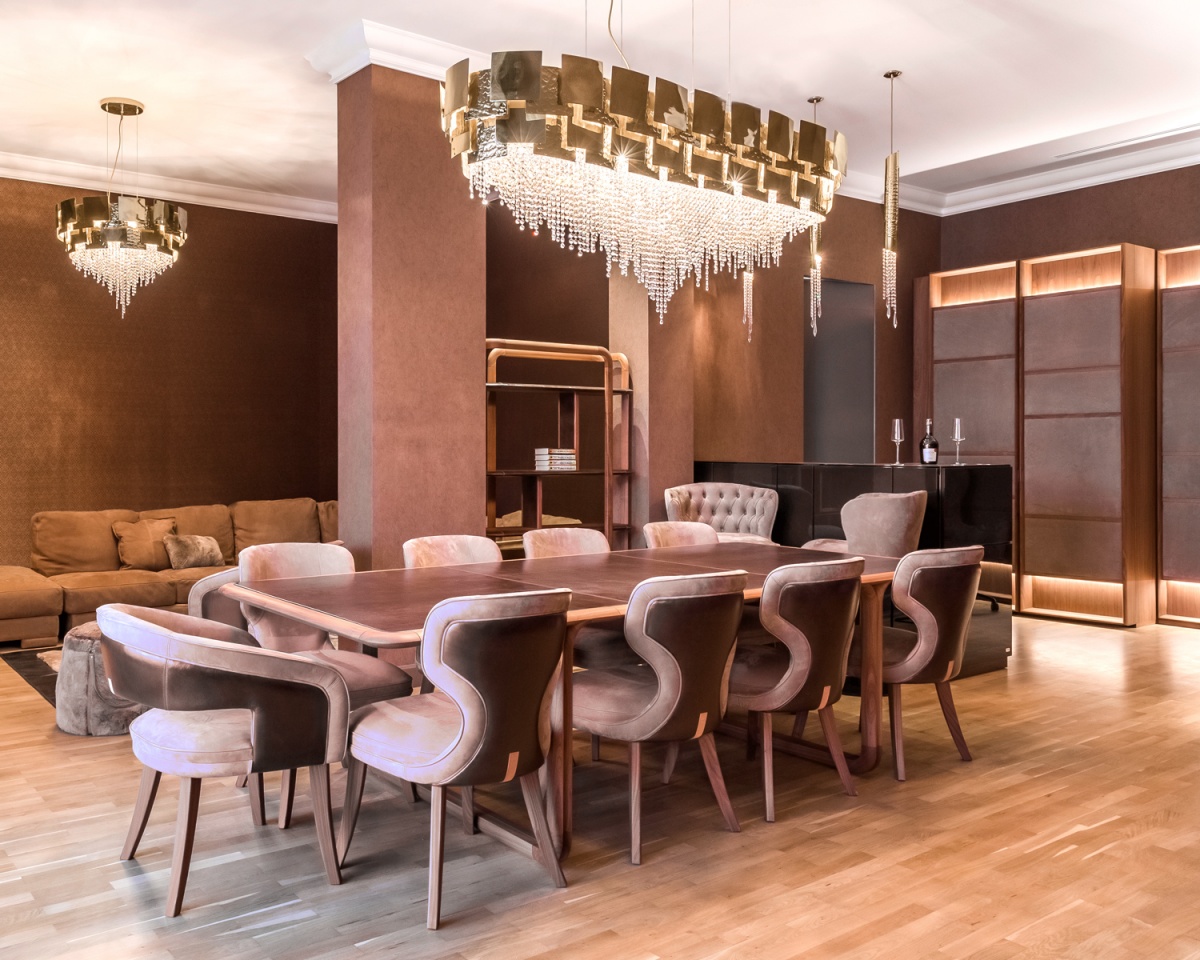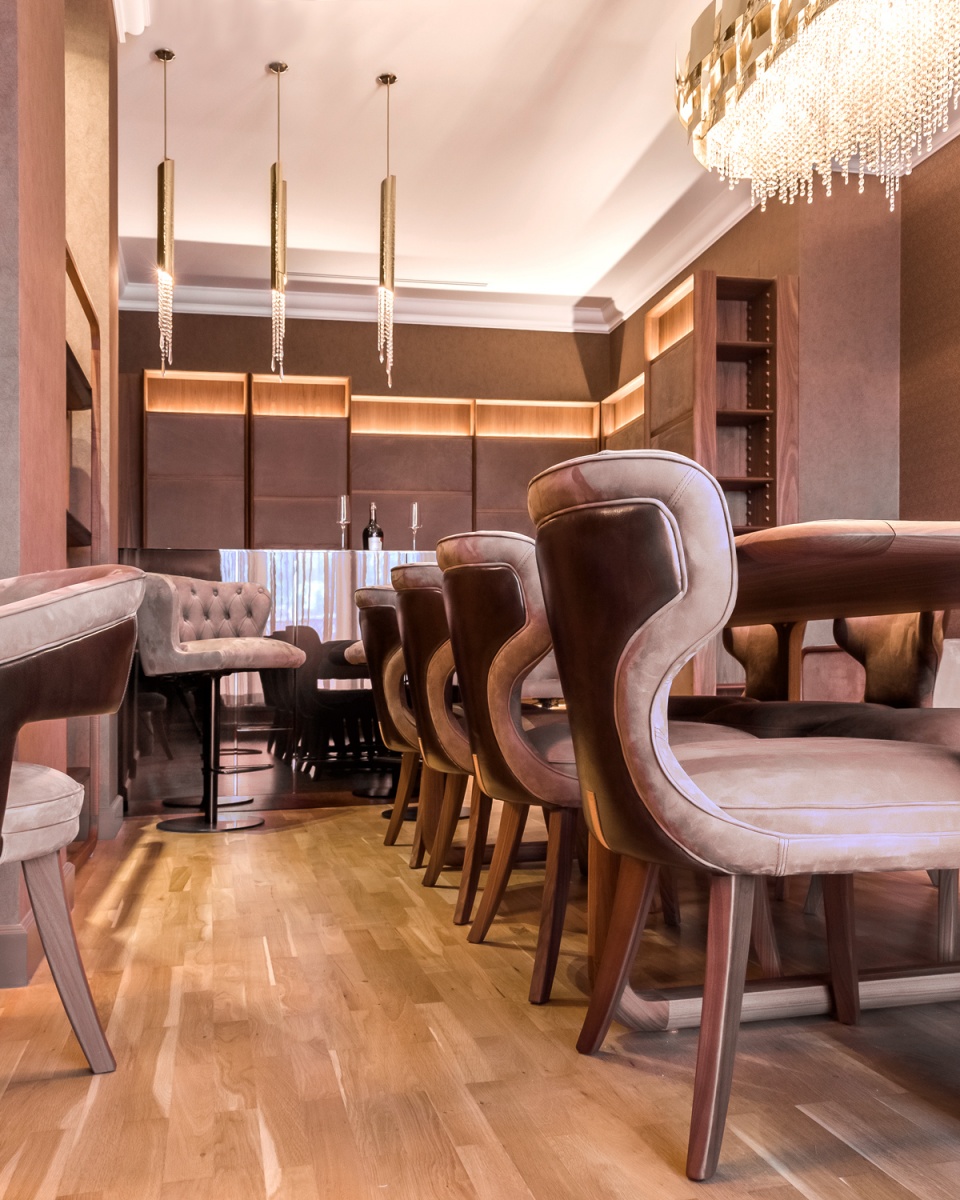 This Residence in Vietnam presents an incredible design that transcends the meaning of the word, luxury materials, beautiful inspiration, and a bespoke marble wall that is simply to die for.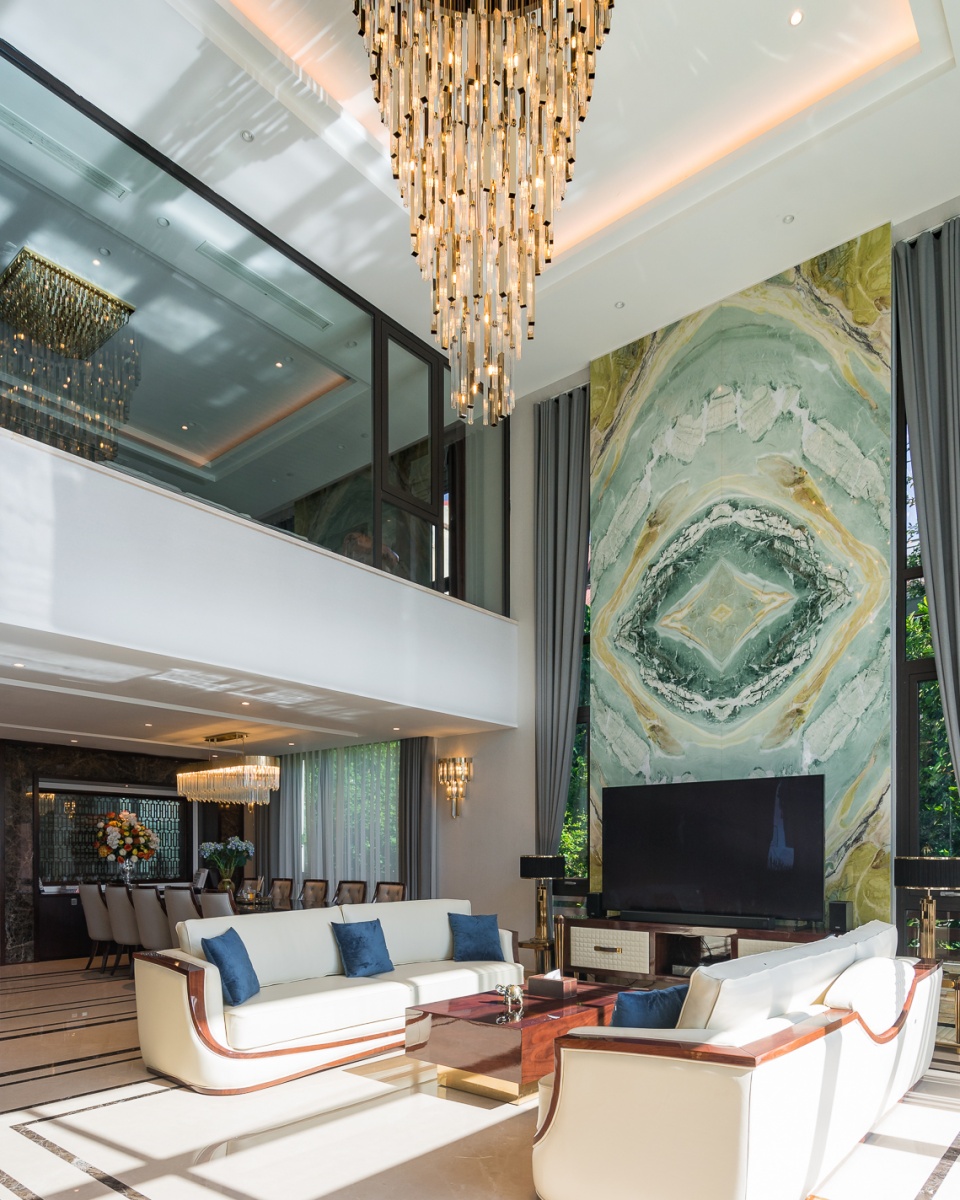 OCTOBER
Midnight Table Lamp
To preserve the long-standing and deeply rooted relationship between brass and crystal, Castro Lighting has developed the Midnight Table Lamp. This design has the intention to illuminate and pay a glowing tribute to new fresh air interiors.
Glamorous and futuristic, this luxurious home bar designed by Astounding Interiors brings a feeling of opulence, with striking centrepieces that transformed this space. The use of a copper on lighting design and lifestyle furniture elements, more than a compliment to the overall look, it brings boldness and makes a statement. This Home Bar project celebrates sophistication: the use of Lemurian blue granite worktop to give a slim look and the open shelving serves not only as storage space but also as decoration.
The bespoke mosaic wall is another feature that stands out and highlights the details used in this room.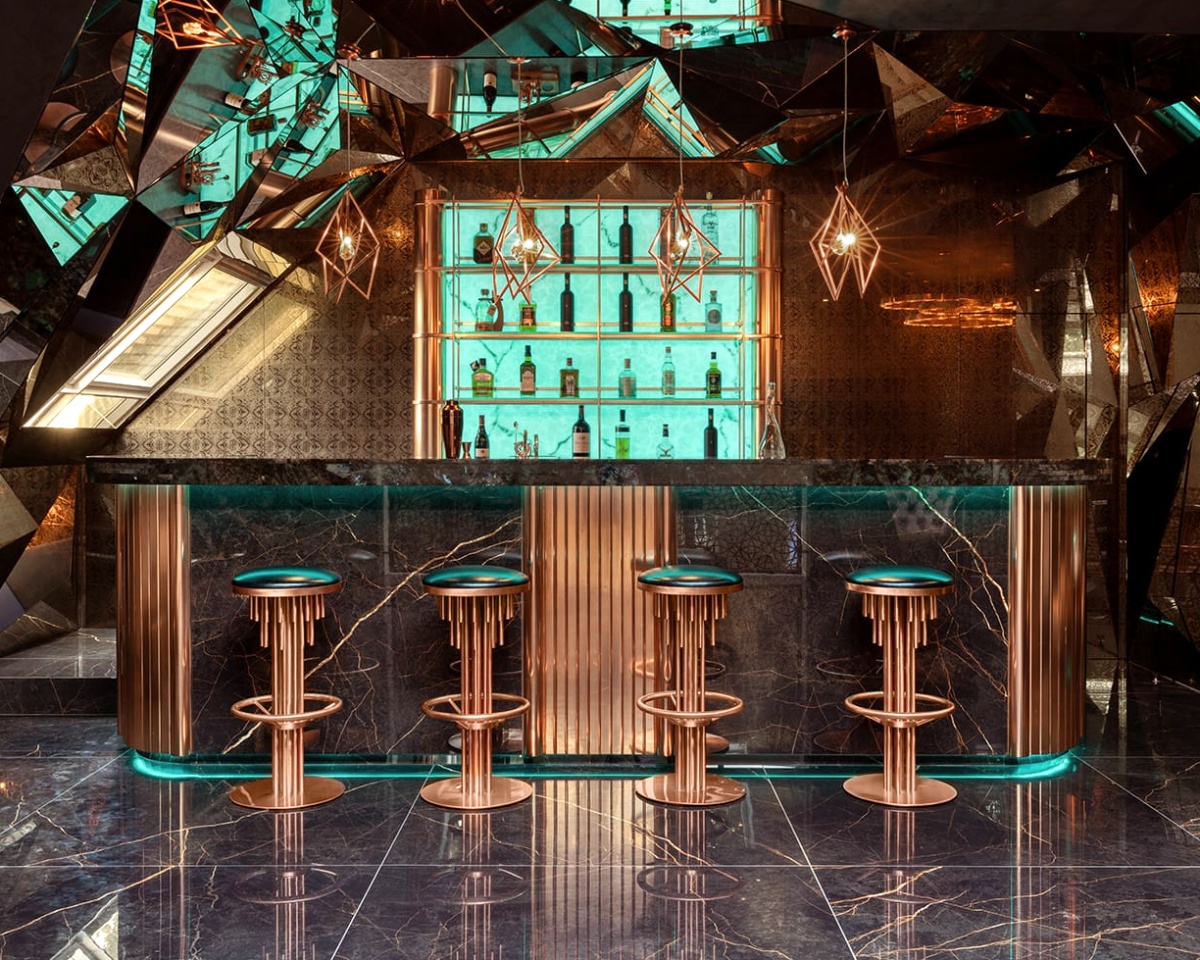 A luxury living room, using a Beigefull palette of colours combined with Red Natural tones and opened air elements for a relaxed, calming feel with a bold twist, in Hampstead, UK.
A residential project by Sarah Gare Interiors, featuring Leviev Suspension and Metis Suspension. Photography by Enzo Cerri.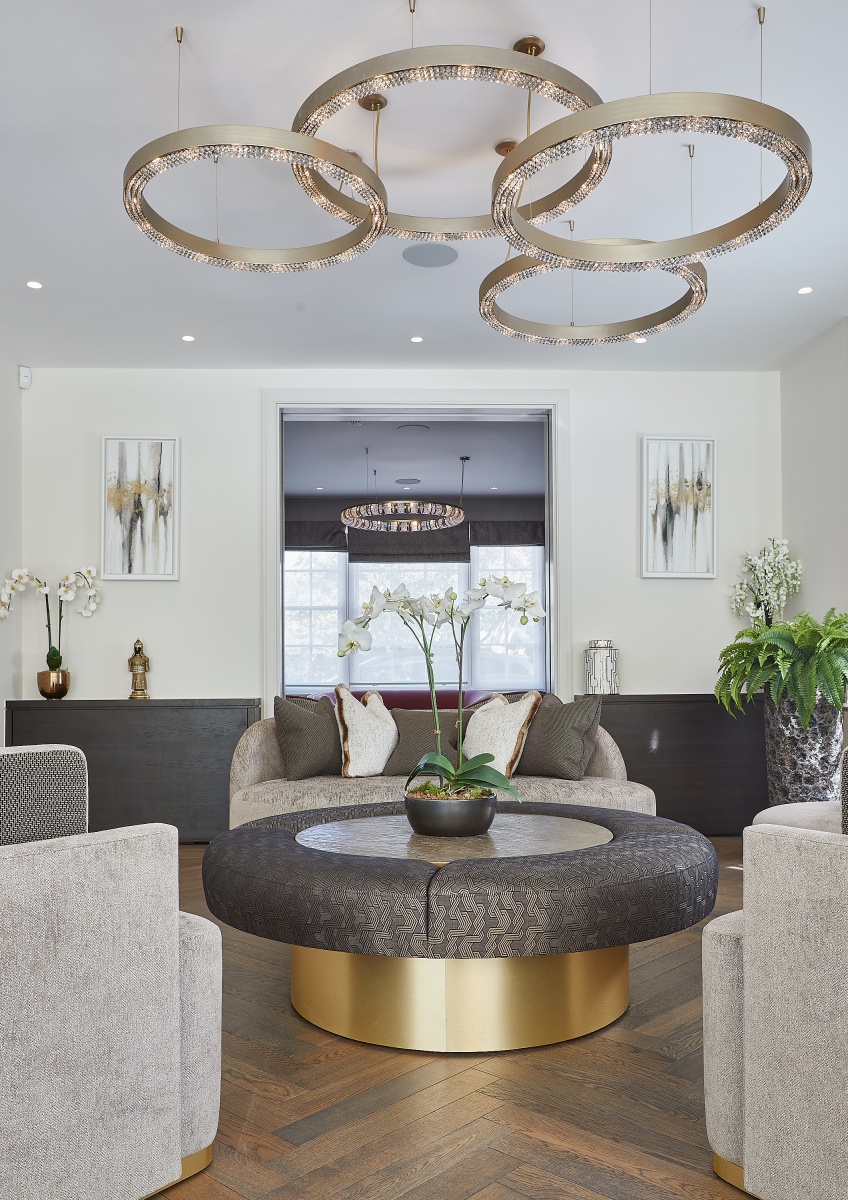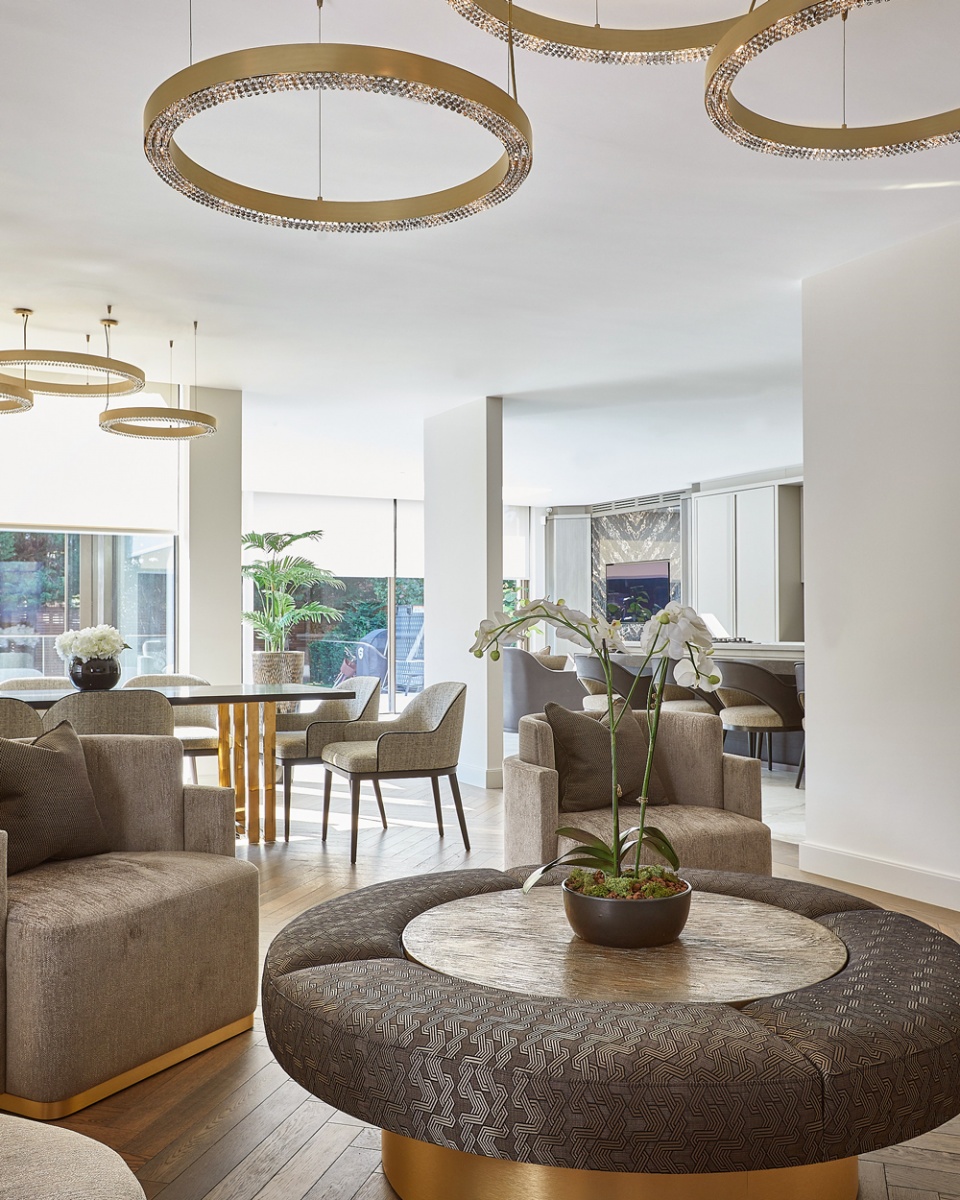 NOVEMBER
(New In!)

Penelope Bar Stool

Designed with outstanding handcrafting skills and high-quality materials and fabrics, Penelope was conceived with one purpose: Give any interior space the lavishness it requires. This elegant bar stool features polished brass legs with the details of the black nickel that give it a completely exclusive and deluxe look, setting a seductive appearance to the body that features rich materials like fabric, gold-plated brass and plated black nickel, with an art-deco feeling.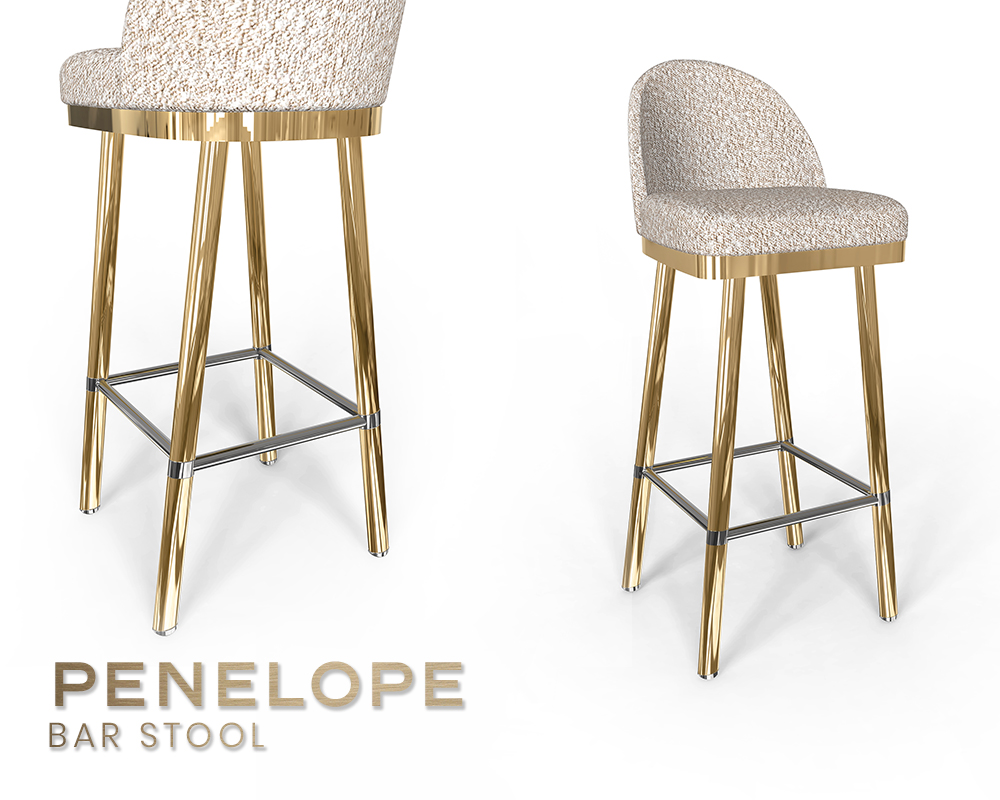 GIO Pendant Light
Bringing inspirations from the Italian modernist architecture and design, GIO Pendant named after Gio Ponti, a worldwide reference for creating beautiful buildings across the world, always starting with geometrical shapes and filling them with unexpected details inside. This light is no different. It carries the same energy as building windows at night, this pendant has specific details that create a unique light effect. These cuts feature the gold mixed with nickel together with the knurled details, transform what in first sight, looks like a simple lighting design, but it is a complex innovative handcrafted design, produced with the best industrial technology.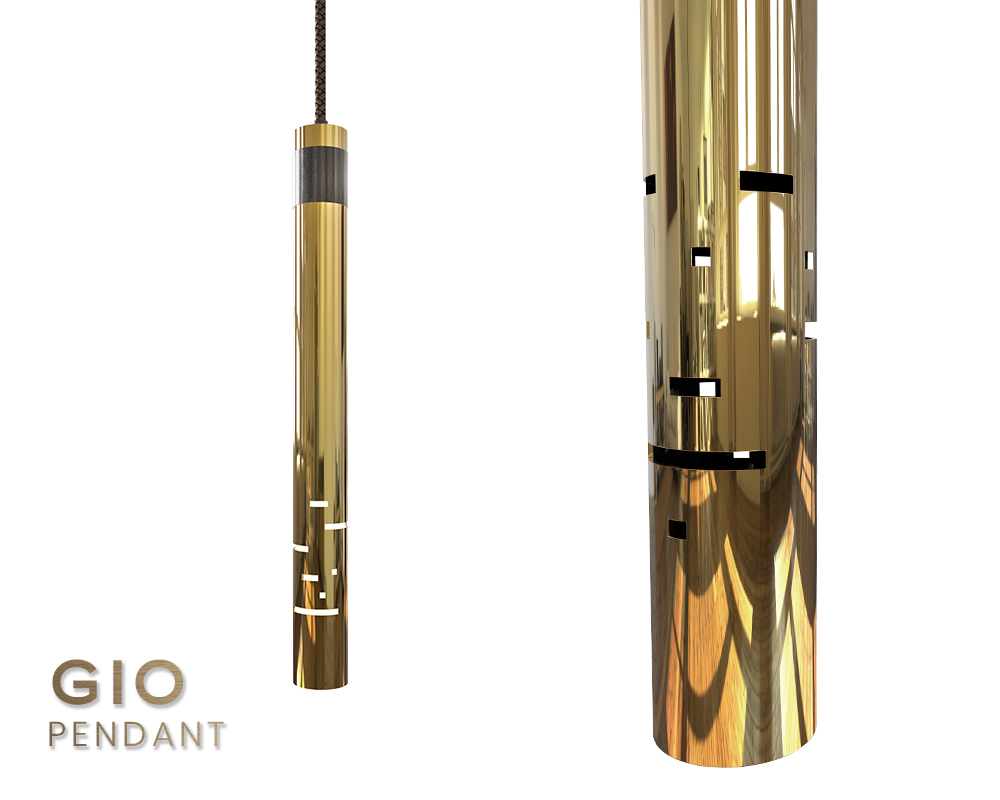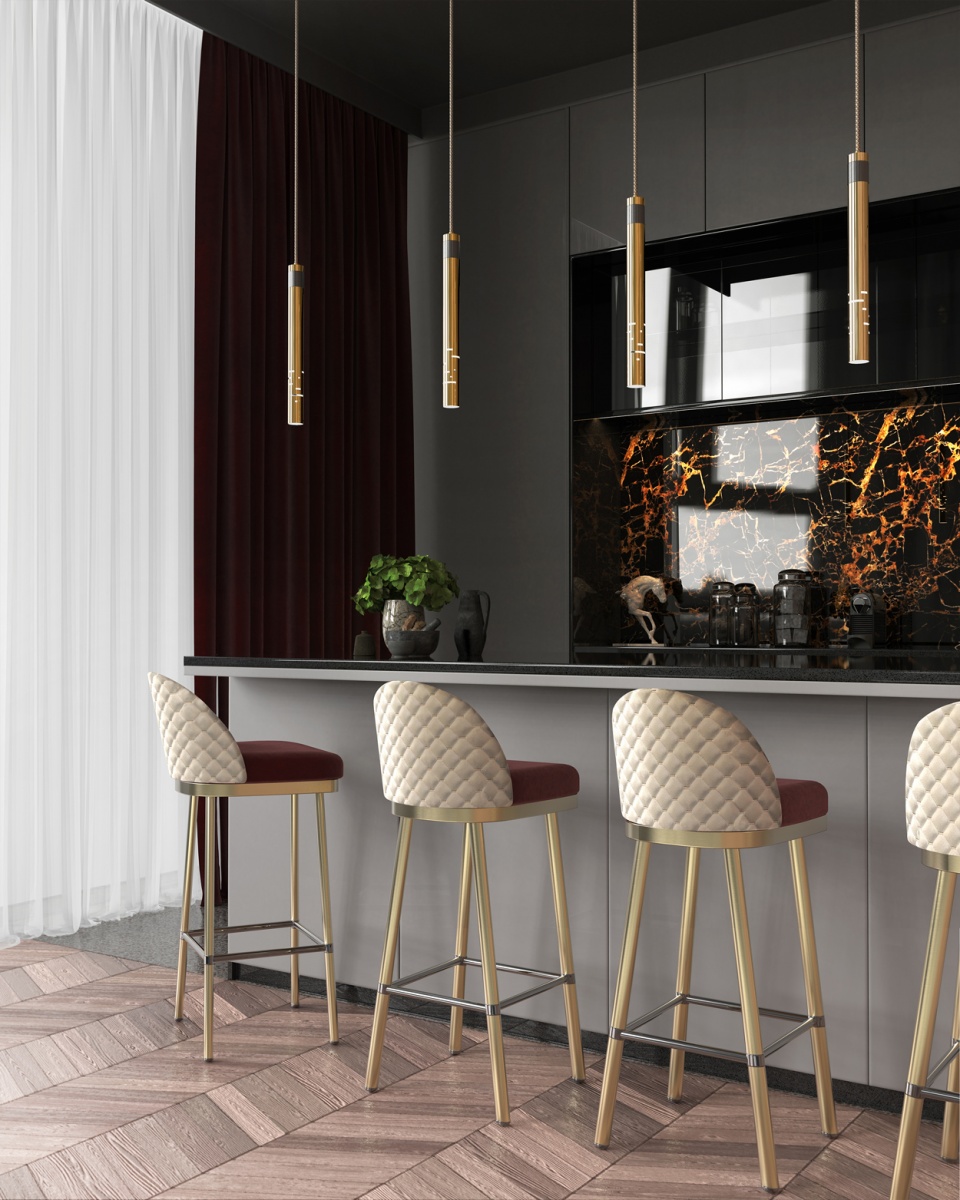 "Invent Yourself and then Reinvent Yourself."
This famous phrase by Charles Bukowski reveals a little of these new designs we are presenting. Existing pieces, that have undergone a few changes to keep it conceptual, stylish and modern. Contemporary furniture designs to give you exclusive options to help you decorate your hospitality design project, or your own home.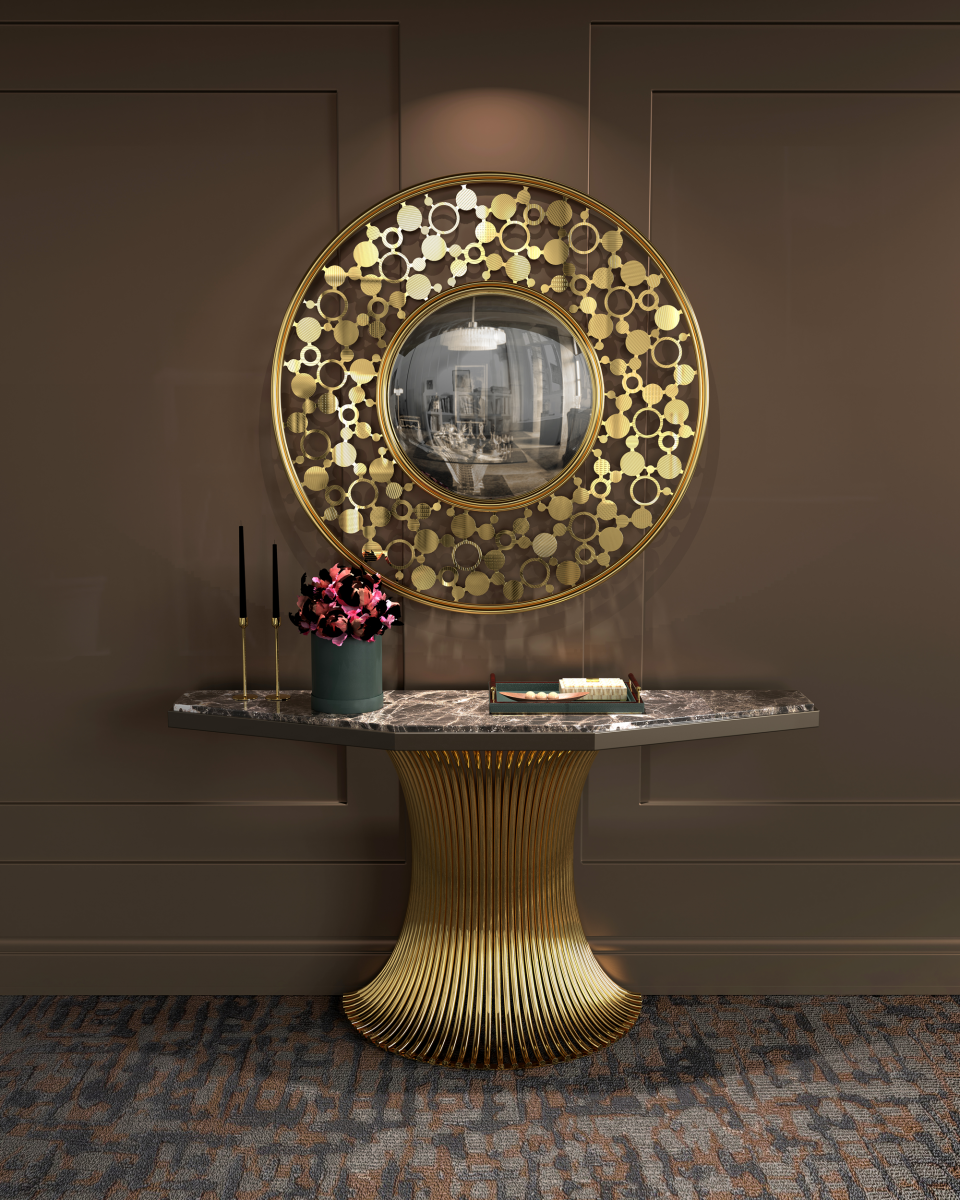 Flusso Console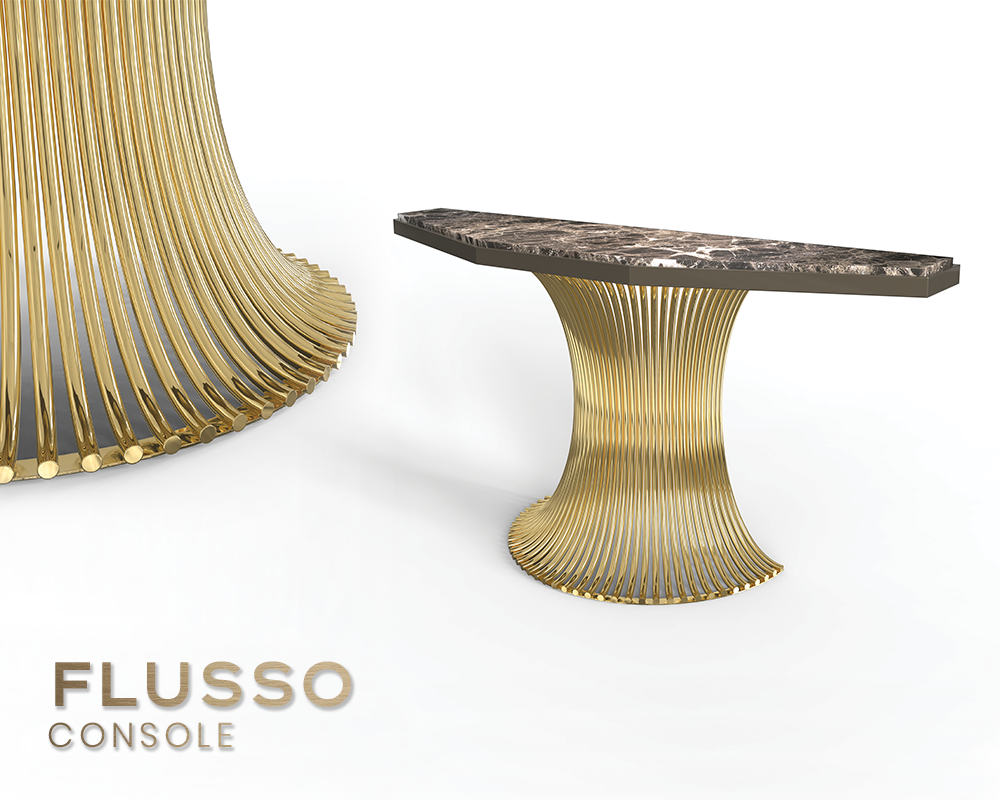 Having as inspiration the constant change and movements of dancing, Flusso's design makes the gold brass elements involved in a unique flow. Just like a dance, which inspires and empowers people to be artistic and expressive, the Flusso lifestyle furniture piece creates a perfect luxurious posture that spreads its vibes freely around the area, creating a sophisticated ambience.
Pattern Mirror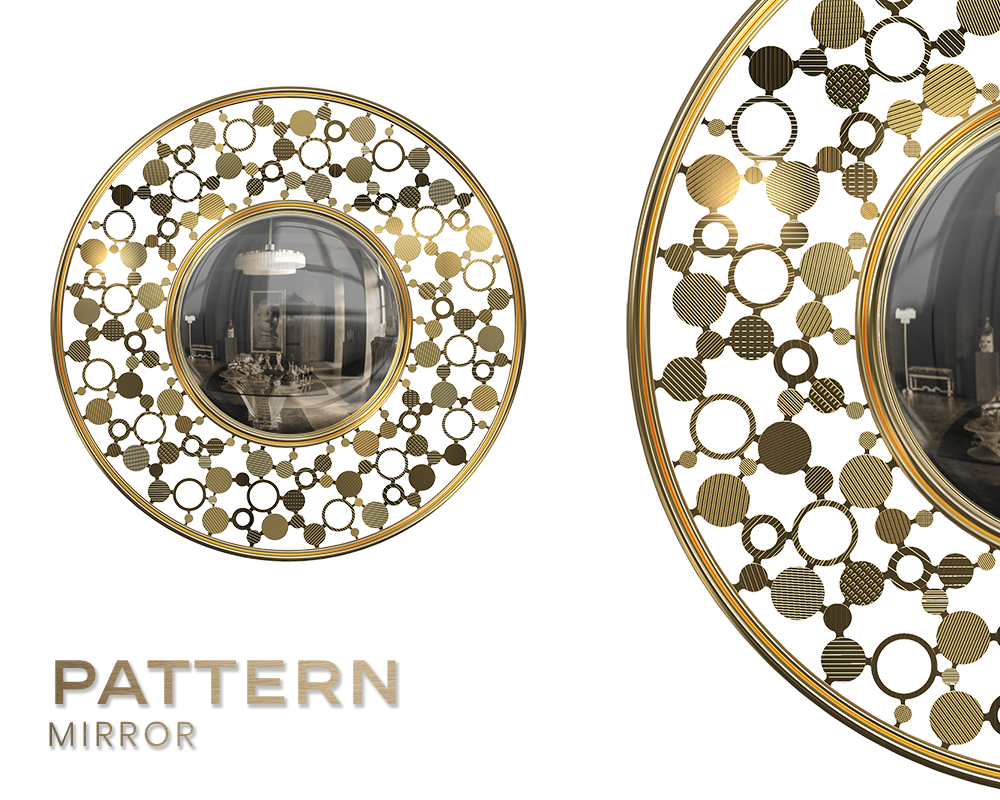 This design was updated has a response to the needs of our partners. The Pattern mirror was named for its repeated gold-plated brass shapes overlaying the circular base. The combination of noble materials allows this piece to carry an uncompromised luxurious style and strong presence. A truly luxurious statement piece that blends shades of elegance across the surrounding area is perfect for entrances, hallways, living and dining rooms, as well as any other interior space your interior décor imagination allows.
DECEMBER
Halma Table Lamp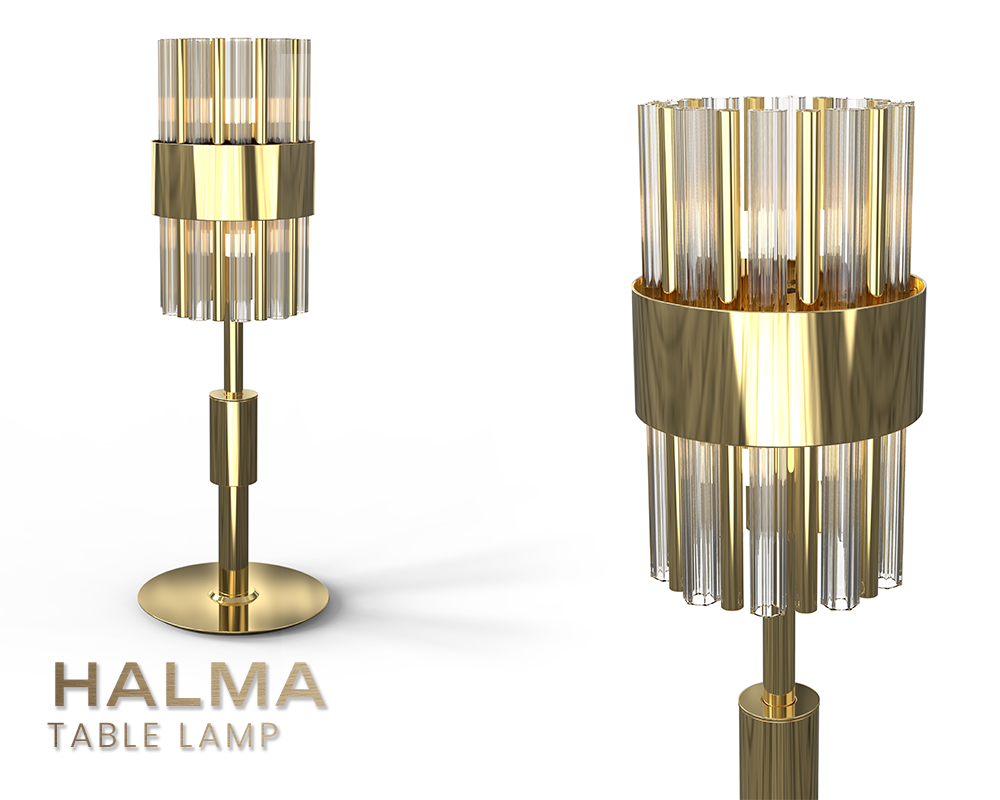 Halma Table Lamp can flawlessly decorate and brighten up the dining room, living room, bedroom, or hallway. It's a perfect solution that brings refinement and elegance to all kinds of interior design styles, simple yet eye-catching.
Marie Console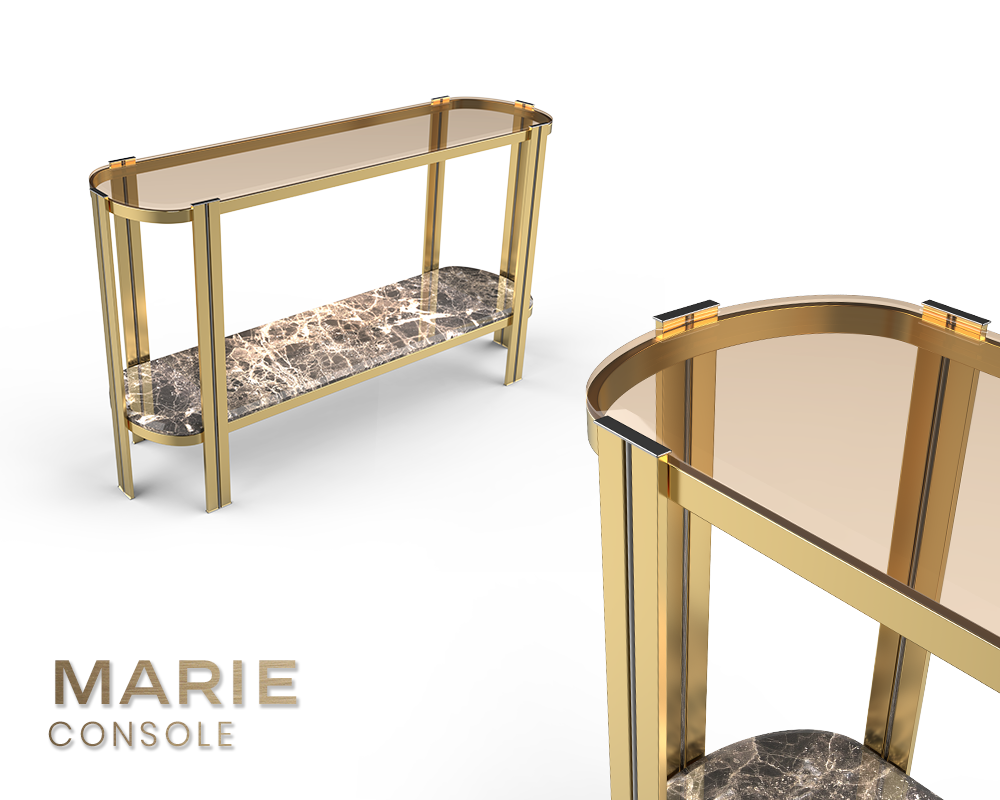 Marie Console aims to express the burst of lavishness that once lived in the Palace of Versailles, being a contemporary piece that would definitely be the Queen's choice if she lived in our times. This bespoke lifestyle design will fit easily to a variety of interiors, from modern Art Deco to contemporary chic.
Colombo Sofa
Colombo Sofa is named in honour and celebration of Joe Colombo's designs. This simple yet outstanding sofa design reveals a sophisticated style of living. The modern beige upholstery piece is all about making your living space more cozy, elegant, and refined.
Business development manager Mariya Krehel reflects on her journey at Castro, favourite designs, accomplishments, and dreams about the future.
The brand-new Castro is set to astonish design lovers and décor enthusiasts with its handcrafted, bold lifestyle aesthetics.
Mariya Krehel Feat. Mia Dining Chair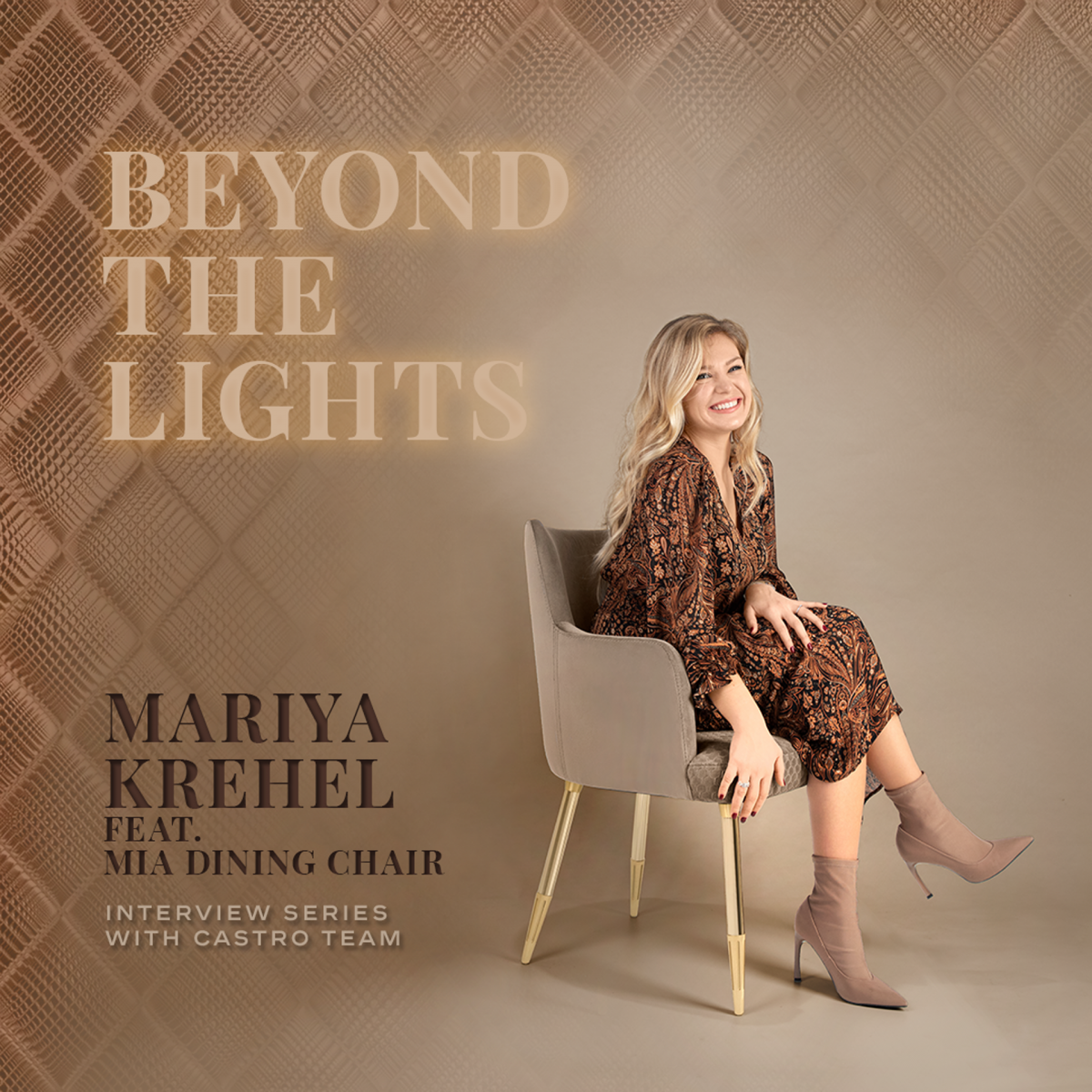 Mia Dining Chair
This classy and luxuriously styled Mia Dining Chair unveils the same grace and elegance it offers. The new design is inspired by the classic style alongside contemporary influences to create a furniture masterpiece of timeless elegance. The bespoke Mia chair brings a feeling of mystery and irresistible luxury, providing maximum comfort and allure to the most exquisite interior décor.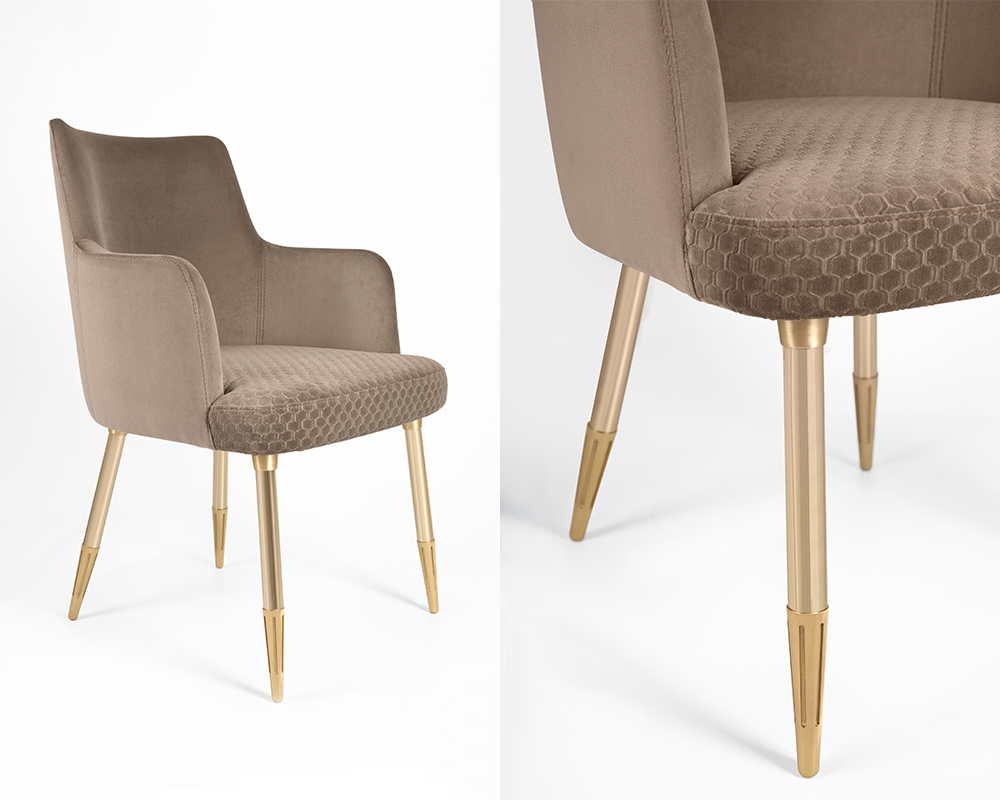 The Luxury Lighting Brand That Will Turn Your Home Into An Oasis
Driven by simplicity, luxury and geometric influences, Castro Lighting strives for a balance between tradition, modern dynamics and minimalism in every project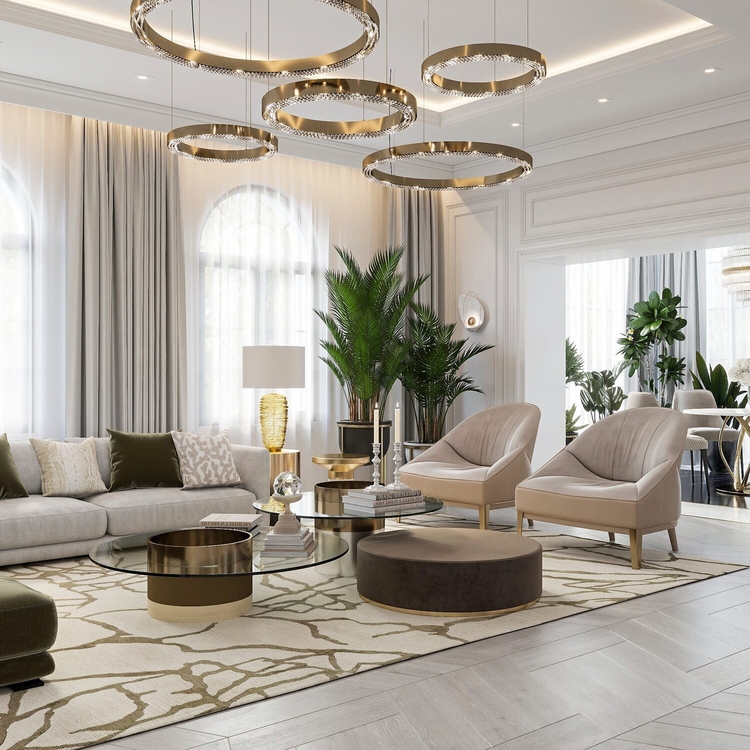 HAPPY HOLIDAYS 2020