Modern Kitchen ideas
---
Nowadays, the rhythm of present-day life challenges people to choose not only useful functionality and comfort in interior design but also pay attention to the importance of aesthetics and self-expression in their homes. The design creativity applied to the kitchen ambiance inspires to set the right mood for the whole day. Luxury lighting and iconic furniture pieces are more than well suited to the impeccable elegance of modern kitchens and dining spaces, showcasing a beautiful blend of relaxed sophistication along with artistic yet practical dining room objects. The timeless lighting design provides coziness and refinement to the most demanding living places. Meantime, refined furniture gives the contemporary kitchen its charm and elegance, making it mellow and cherished at the same time. The following design sets can be adjusted to different interior design styles. Allow yourself to live the dream and be ignited by these astounding ambiances to create a fascinating one-of-a-kind kitchen.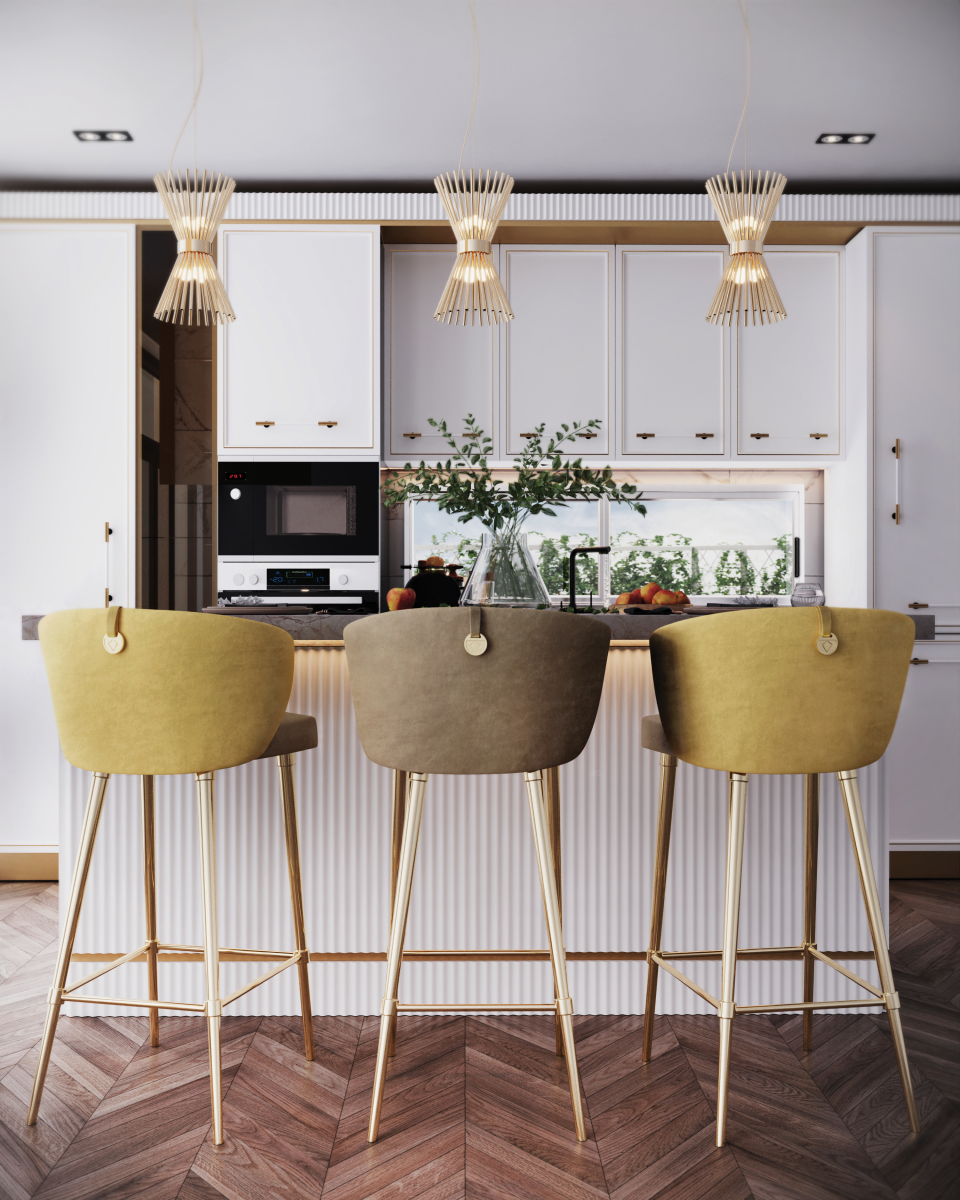 This stylish kitchen set features Halo Pendant by Castro Lighting and Sedere Bar Chair by Castro Interiors.
The Halo Pendant, made solely with gold-plated brass, is a display of modern inspiration designed for those who want a simple and elegant lighting fixture without giving up charm and refinement. An option that is simple yet sophisticated, being the perfect addition for contemporary or modern interior designs in both residential and commercial spaces. The Sedere Bar Chair, for its part, is a luxurious reflection of timeless handmade furniture. A glamourous touch is provided by a refined combination of materials such as brass and velvet that frame the mesmerizing upholstery, Sedere's splendid design aims to be more than what meets the eye, having a sophisticated high-end look. Detailing the chair's back is Castro's lighting logo stitched magnificently. Sedere bar chair can be used in a classic style with straight lines or even contemporary where subtlety and simplicity are the key elements.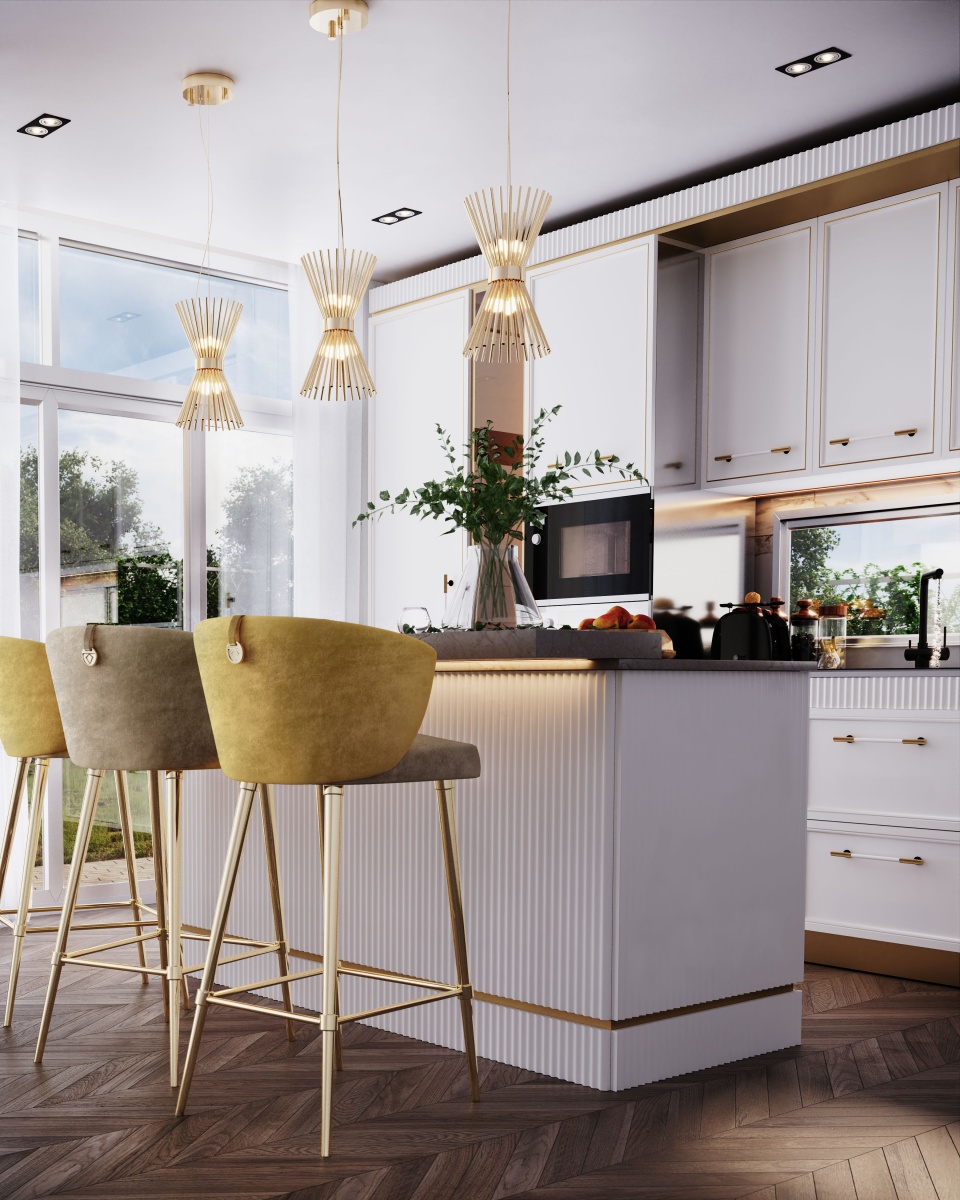 When designing, it is always important to bring personality to the place where we live. It is, obviously, never easy finding the balance between interior trends, timeless luxury, and the way one can see the concept of beauty and livable luxury. For a long time, gold has always been the key component of luxury interior solutions and essentially has always been the most desired of all noble metals. The following composition displays effortless chic at its finest and a fresh approach to luxury, highlighting Safari Suspension and Safari chairs.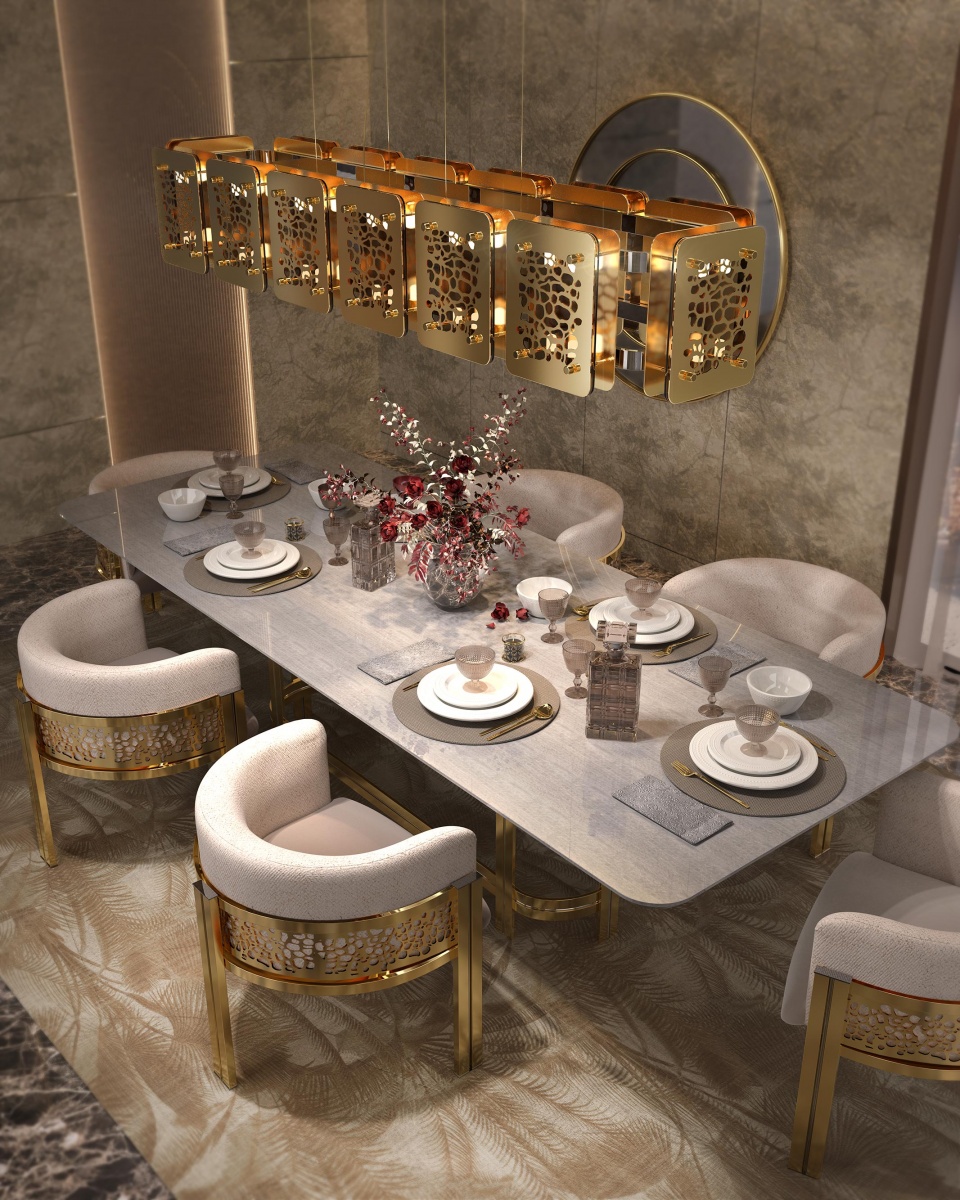 The key highlight of this lighting creation is rooted in its exclusive giraffe print handcrafted with the ultimate care to details by professional artisans. Each brass plate is a true design masterpiece that carries a bronze glass to soften the mesmerizing light effect. This lavish suspension can be modeled in any dimension and visually complement a living space with its natural allure, creating an unusual ambience. Bronze and earthy tones bring the wild into high-class décor. A signature lighting design delivers a fresh approach to luxury and results in a refined retreat for every demanding interior. This majestic chandelier was designed to be contemplated and harmoniously allied to an elegant composition with a chair alongside a wall light and table lamp from the same collection.
How about adding some novelty and freshness to the interior living space, creating an exclusive signature by mixing different combinations of colors, lines, shapes, and brass finishes, finding a brand-new interior design philosophy. Let's explore the diversity of the different approaches to empower kitchen interiors by integrating distinctive lighting ideas and iconic lifestyle pieces. A contemporary scheme can reach its luxurious allure by adding some copper accents to the kitchen area, like luxurious lighting fixtures, lifestyle furniture, or decorative accessories.
This fabulous ambience features Metis Linear Suspension and Penelope Bar Stool.
Today, the copper finish is considered to be a strong statement and is being perceived as the embodiment of exquisite taste and commitment to stand out. Must-haves of this interior décor are expensive and rich materials. Brass, copper finish, crystals, rare woods, exquisite marble, and lacquer finishes are the main key features. Let these curated ambiances be the source of your inspiration to redecorate and complement your home with the ultimate furniture pieces and elegant lighting that create a luxurious interior concept.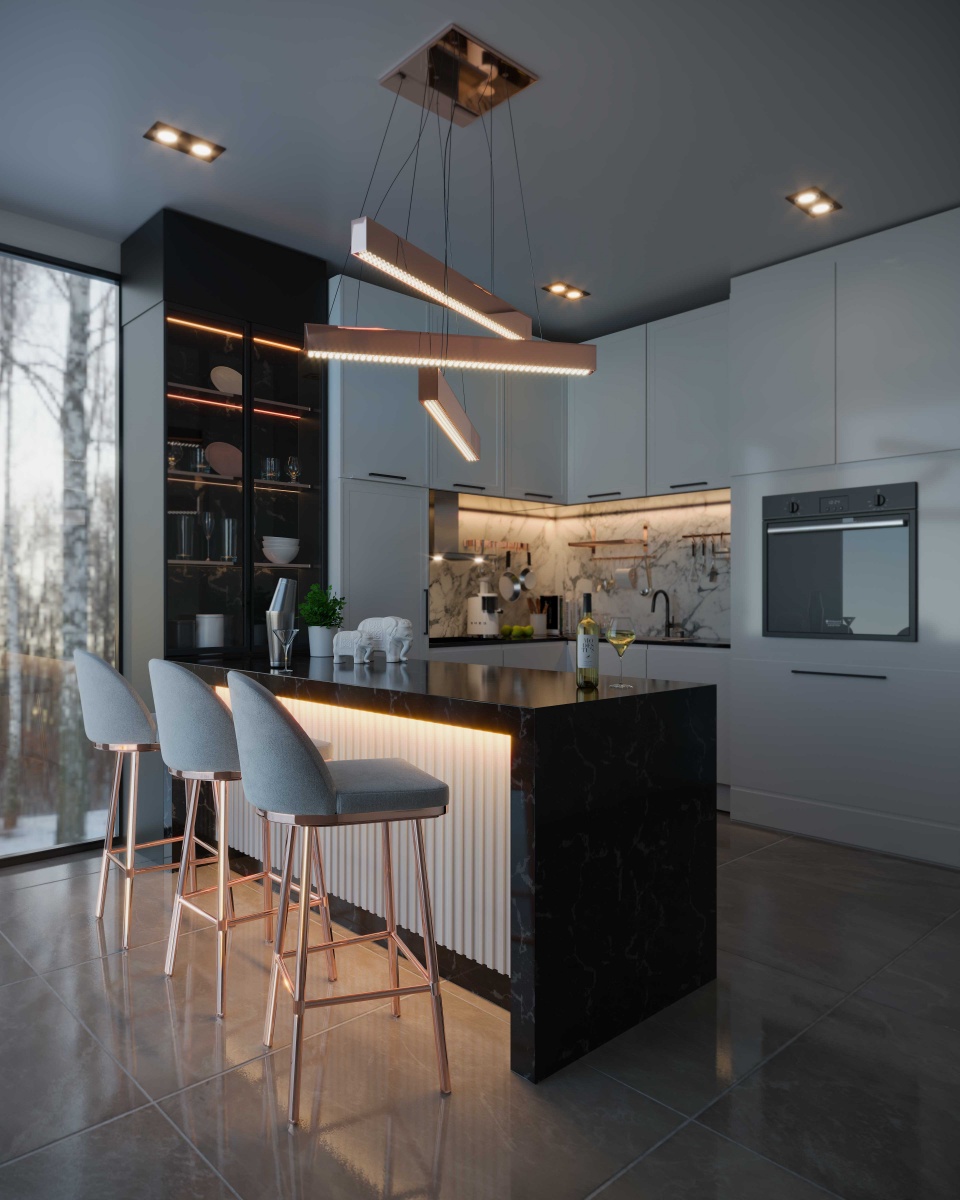 A splash of minimalist luxury is presented in the below interior ambiance. Would you like to make breakfasts here on daily basis and transform your morning routine into the ultimate artful expression? The Gio pendant has a geometrical see-through design element that creates a unique light effect. These cut-outs feature gold mixed with nickel and the knurled details which transform this, at first sight, simple lighting creation into a complex but innovative handcrafted design, produced with the best industrial technology. This pendant light will fit perfectly in any modern environment, being super versatile, allowing a complement that will take your interior project to a next level.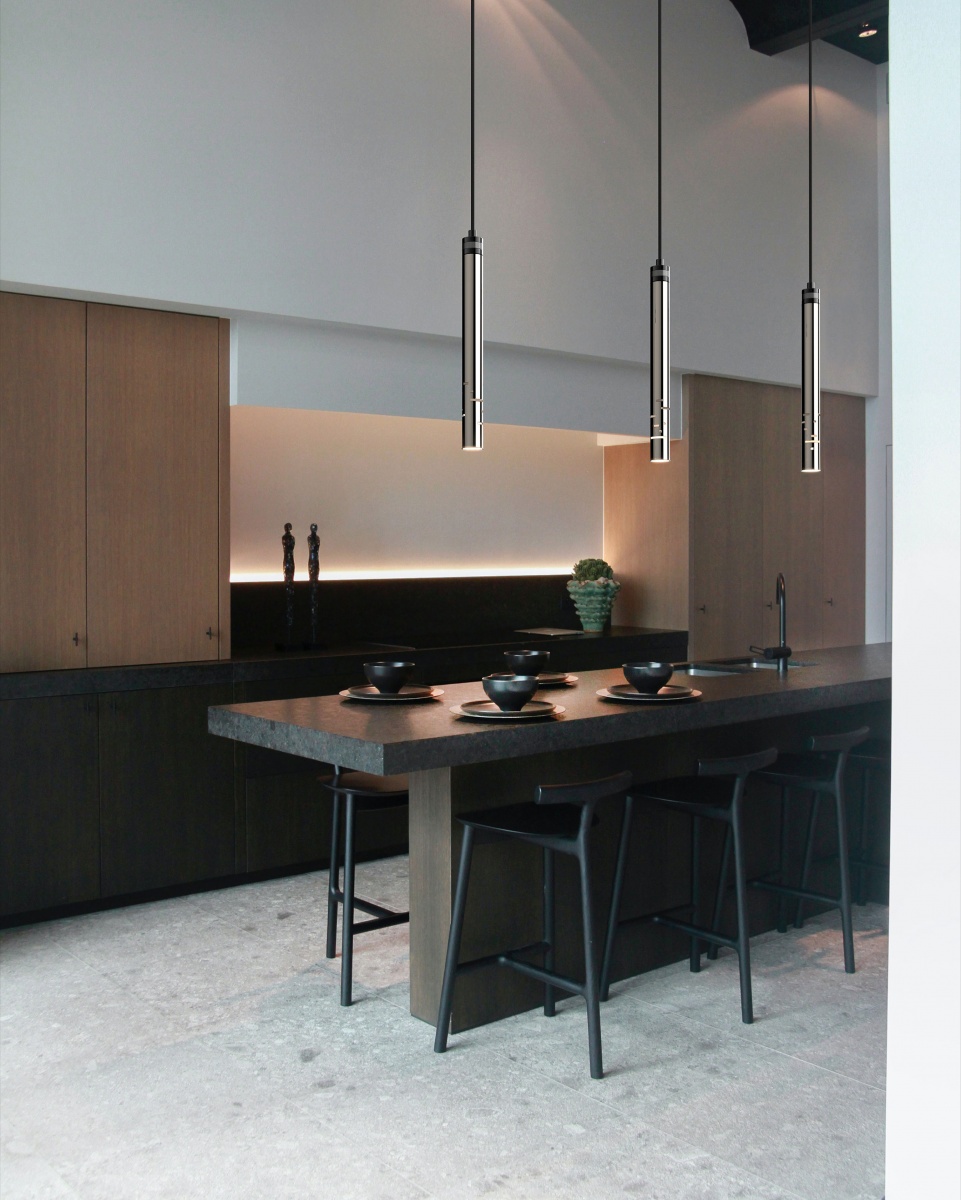 Artistic design and daring innovative techniques provide an unforgettable signature to the interior. The following kitchen ambiance reveals Avany Pendant and Projection Bar Stool. This lighting fixture reveals a very own creative vision in lighting aesthetics: authenticity, freshness, and boldness. A unique pendant that combines both: functional sophistication and luxurious lifestyle with a graceful futuristic touch. Ideal for a contemporary style or modern interior design in both residential and commercial living spaces.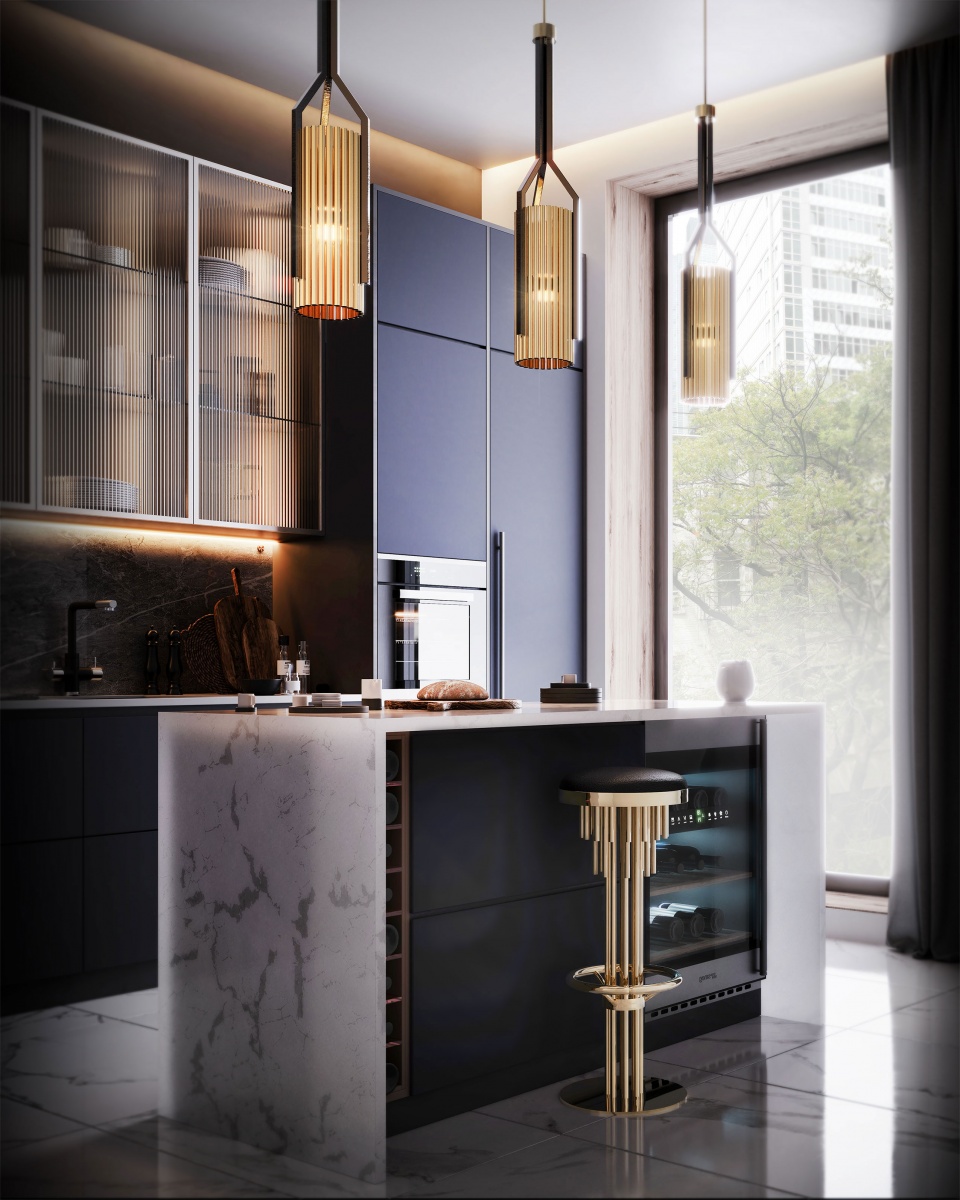 Alternatively, one can add a pinch of cosmopolitan vibes to the kitchen and enjoy the scenery of big city life. Bring luxury and simplicity together, while embodying vision into the interior design concept. A refined blend of premium materials and color shades guarantees an easy-going elegance and groundbreaking self-identity for any curated luxury kitchen. The golden details of the dining room area paired with the dark brown walls grant a graceful yet modern touch. This inspiring kitchen dining room headliners are Halo Suspension and Charlotte Dining Table coupled with Sedere Dining Chair. A luxurious touch is applied to the whole dining area, making it both: classy and practical. It's an ideal formula to achieve a certain harmony and charismatic atmosphere that can adapt efficiently to several interior design styles, just have a look.