The Art of the Moroccan Riad
---
The bedroom is a haven for recharging and everything that fills it has a significant influence on how we feel. On this resort, nestled within the charming streets of Rabat, you'll discover a blend of cultural richness and modern comfort that transcends ordinary accommodations – an opulent riad that aims to be more than meets the eye.
To support the bed, the Marie Side Table is next to it. Flaunting a luxurious gold finish, this stunning piece adds an element of intrigue to the décor. The combination of noble materials like brass and glass creates an opulent feel on this small table that carries enchantment and sophistication. In order to create a cosy and charming atmosphere for bedtime with delicate rays of light, the Riviera Wall Light is perfectly placed on the wall behind the bed. Composed of a rectangular shaped gold-plated brass plate - hammered by hand with modern handcraft technics – placed in the center of a semi-circle that allows a warm light to spread through the slight space in between this wall light design.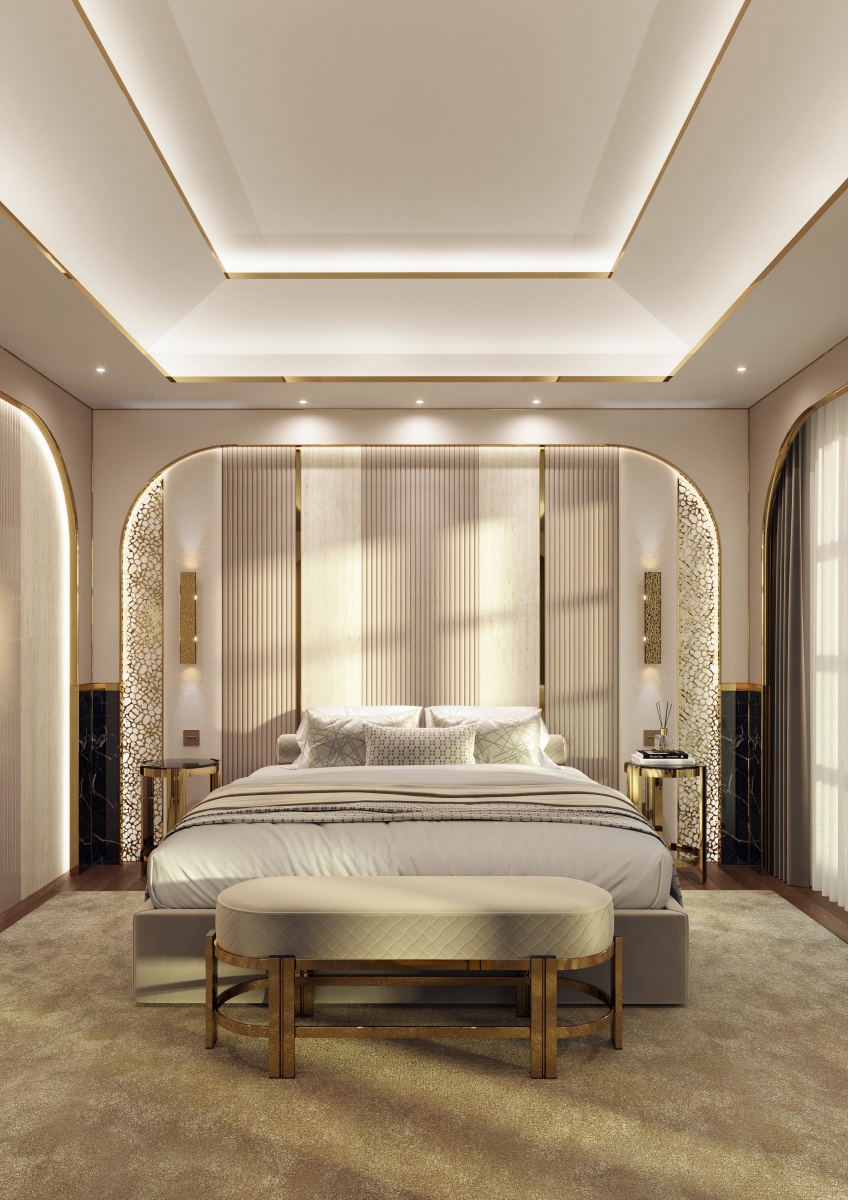 At the foot of the bed is the Marie Bench. This piece of furniture, with its gold-plated brass structure, not only embellishes the whole aesthetic of the room, but is also extremely practical. You can use it to sit on in the morning to adjust your shoes before leaving this room for all the adventures the city can offer you.
Inside this Riad, you can also enjoy a moment of leisure and relaxation while taking in the view of the beautiful Old Town. The Marie Maple, is a padded design that aims to be more than what meets the eye, having a sophisticated high-end look. To complement this space, the center table, from the same collection, is composed by two levels, being the top one in glass and brass, Marie tables are the ultimate elegant and lavish accent to any décor.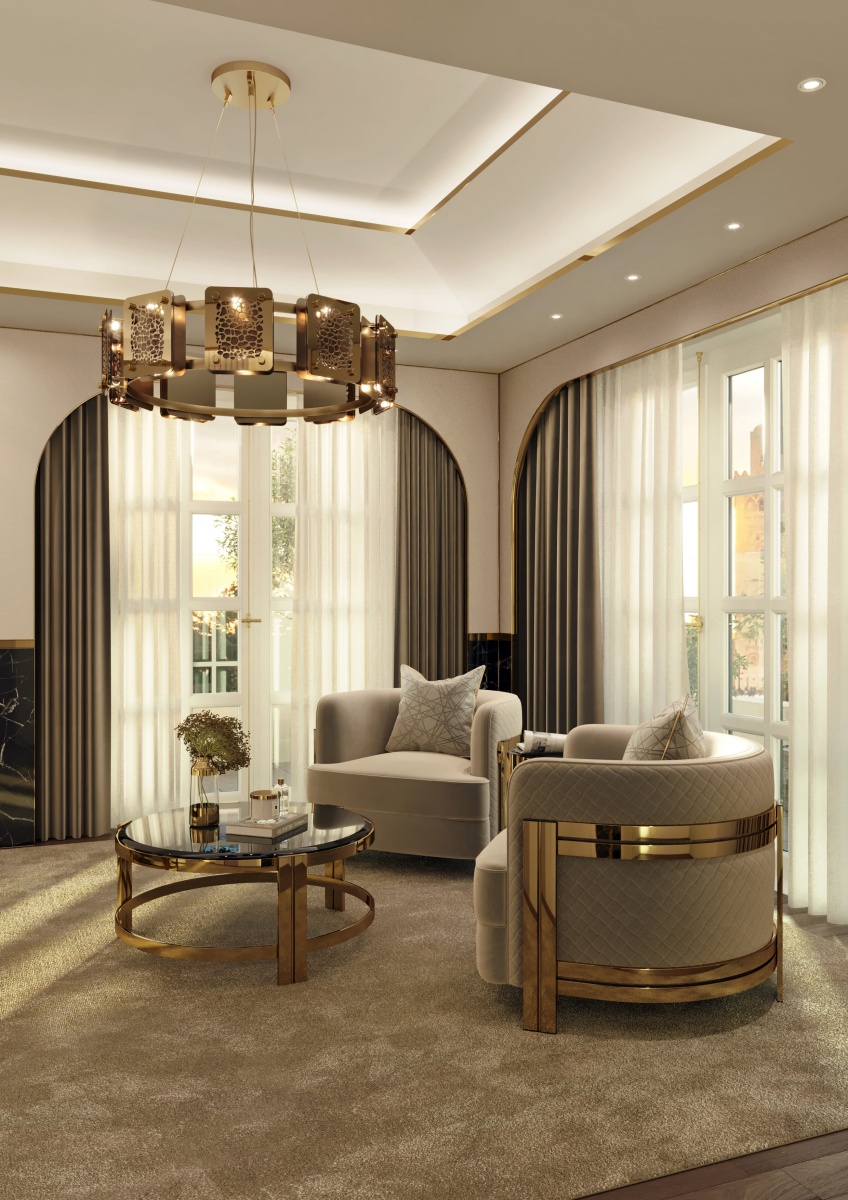 Finally, to provide the proper lighting to this space, the newest addition to Castro Collection – the Safari Round Suspension. The key highlight of this lighting creation is rooted in its exclusive giraffe print handcrafted with the ultimate care to details by professional artisans. Each brass plate is a true design masterpiece that carries a bronze glass to soften the mesmerizing light effect.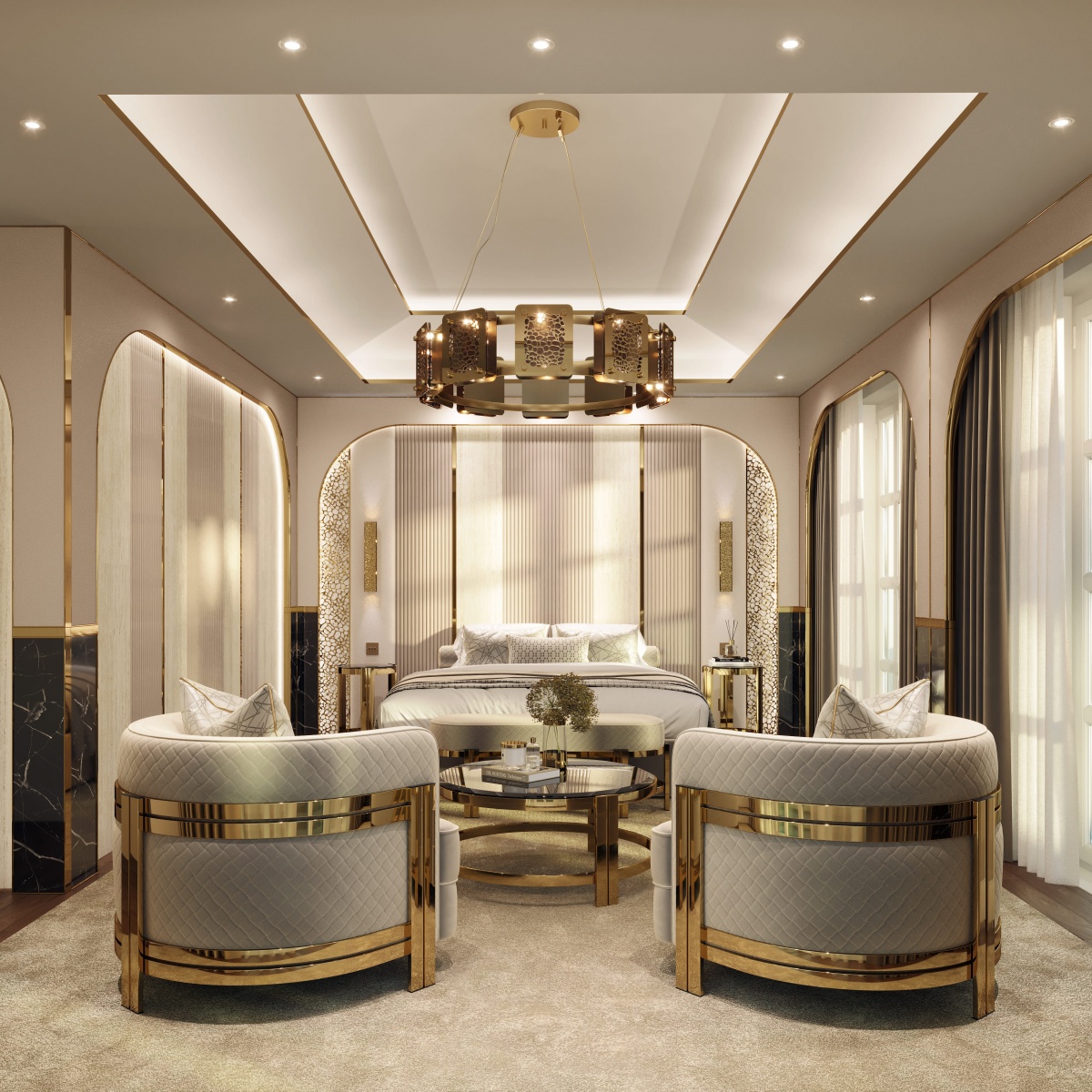 Having every detail thoughtfully considered, the hotel riad's bedroom becomes not just a place to rest, but a destination in itself, where you can escape the world and immerse yourself in a cocoon of serenity.