10 BEST WALL LIGHTS FOR MODERN INTERIORS 2022-2023
---
It's time to celebrate the authentic synergy of contemporary influences with extraordinary and modern statement lighting designs. Let your interior décor speak for you and reveal an uplifting story of your personality through the most elegant wall light masterpieces. Bring an exclusive character to the classy interiors and complement your home with the sophisticated modern lighting aesthetics by Castro. This lighting treasure concept celebrates a creative and stylish manner of avant-garde lighting spirit. A riddle wrapped in exquisite lighting design: innovative techniques, originality, and boldness. Elegant futuristic designs bring luxury and simplicity together to fit the most sophisticated and demanding interiors 2022/2023.

The ultimate selection of the best wall sconces to brighten your décor with a warm, welcoming grace along with lively, modern touch.
1. SAFARI WALL LIGHT
The collection arose from exploring new worlds of inspiration for creative and unique designs. Ignited by the concept of journey, the Safari Collection embraces the aesthetic spirit of the savage animal world, unexplored and enigmatic, enticing atmosphere of serenity and midday summer heat of Savannah. Bronze and earthy tones bring the wild into high-class décor. A signature lighting design delivers a fresh approach to luxury and results in a refined retreat for every demanding interior. This majestic wall light was designed to be contemplated and harmoniously allied to an elegant composition with a chair alongside suspension from the same Collection. The Safari wall light is the newest addition to the Castro iconic designs.
The key highlight of this lighting creation is rooted in its exclusive giraffe print handcrafted with the ultimate care to details by professional artisans. Each brass plate is a true design masterpiece that carries a bronze glass to soften the mesmerizing light effect. This lavish wall sconce can be modelled in any dimension and visually complement a living space with its natural allure, creating an unusual ambience. Matching various styles of residential and commercial projects, this sophisticated design is perfect to shape modern classic, mid-century modern, or art deco interiors.
2. METIER WALL LIGHT
Metier Wall Light is the right selection for framing a dramatic corridor with perfectly balanced lighting that comes out of the tubes. Selected high-quality materials, top finishes, "strict design rules" define this design as a breakthrough, involving many carefully arranged elements. A juxtaposition of several subtle brass tubes creates a proud shape, completing the handmade wall sconce with premium glass. An imposing iconic design is its "métier". Being the beacon of pure light, this design is the embodiment of the ultimate luxury within its impressive commitment to sophisticated lighting design, integrity, and brass manufacture devotion.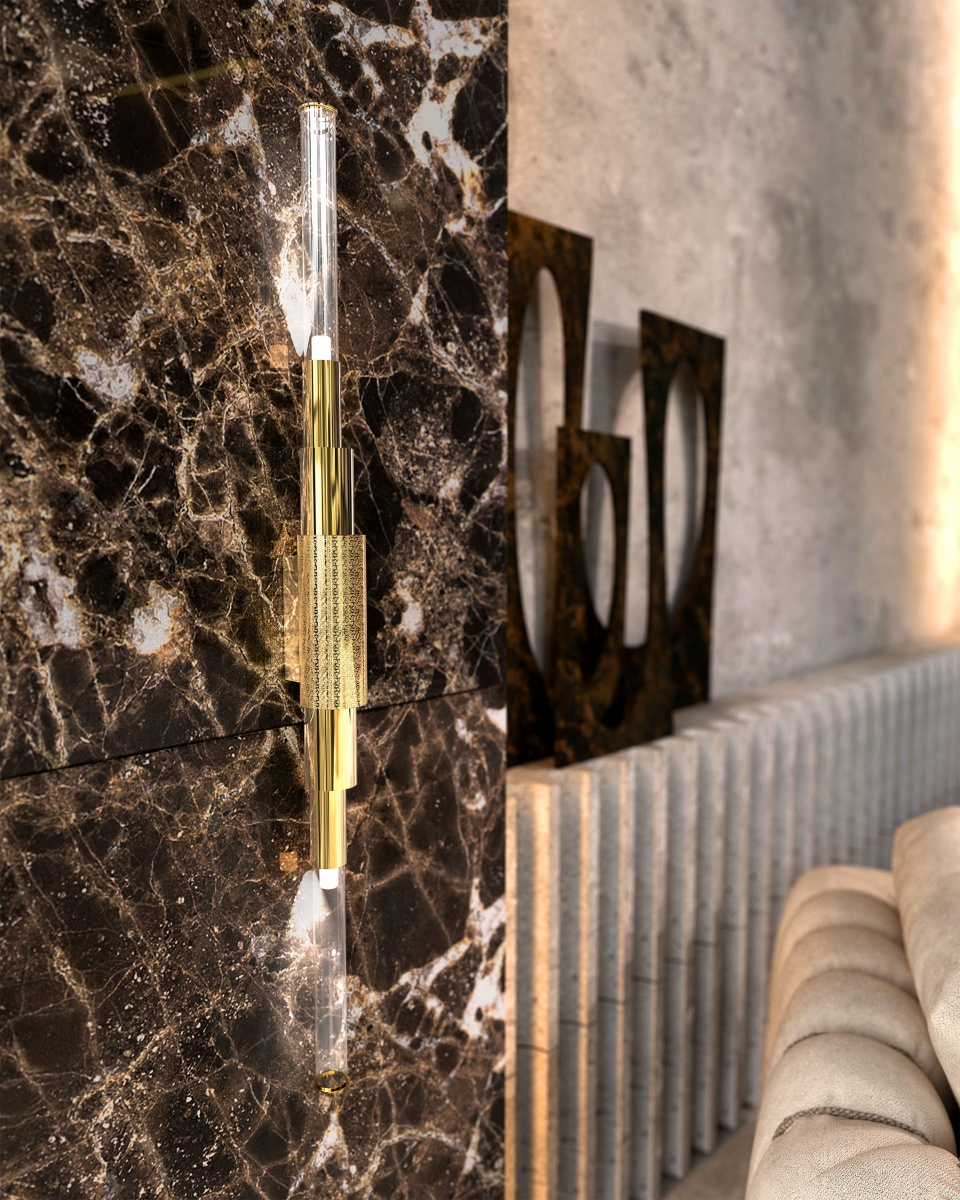 3. RAINFOREST WALL LIGHT
The Rainforest Collection arose from the timeless lighting celebration of nature silhouettes, its elements, and movements. Immerse yourself into the magnificent atmosphere of the sparkling rainforest where the art of brass craftsmanship becomes luxury lighting design. The ultimate fusion between the artistic design, authenticity of traditional Portuguese metal-work techniques, and creative craftsmanship. The Rainforest wall light is unparalleled in the refinement and grace it represents. The gold-plated brass coupled with clear crystal glass - applied by hand - brings a delicate charisma that resembles nature in full bloom. A broad-leaved masterpiece of modern lighting design along with the falling raindrop takes you to remote spaces and the open sky. A dreamy wall sconce that creates an exceptional ambiance to the classy interiors.

A luxury custom-designed collection was made to be featured in the most sophisticated projects organically. The sizes and distribution of the elements can be naturally customizable. This handmade wall light is perfect for vibrant living rooms, dining rooms, or hallways, fitting in a vast variety of decors. This beautiful wall sconce is the right choice for a mid-century modern, modern classic, or art deco interior style.
4. LIBERTY WALL LIGHT
Inspired by the permanent ice figures in Cave of Liberty in Slovakia, the Liberty collection recreates the perfection of Nature with a delicate handcrafted gold plated brass structure. The asymmetric distribution of the geometric forms creates an unexpected visual effect as the Liberty wall light creates a surprising light outcome on the walls. The use of the standard finish of gold plated brass with the unusual geometric form it has makes this a fundamental decorative piece. Combining the most luxurious lighting design with exquisite handmade materials, the Liberty wall sconce is presented as a solution for bold decoration projects that aim to fill the spaces with strong and irreverent lighting pieces. The luxury accents of the modern design combined with the traditional techniques reveal details executed with the utmost care. This piece will transform contemporary interior designs into exclusive and stunning scenarios.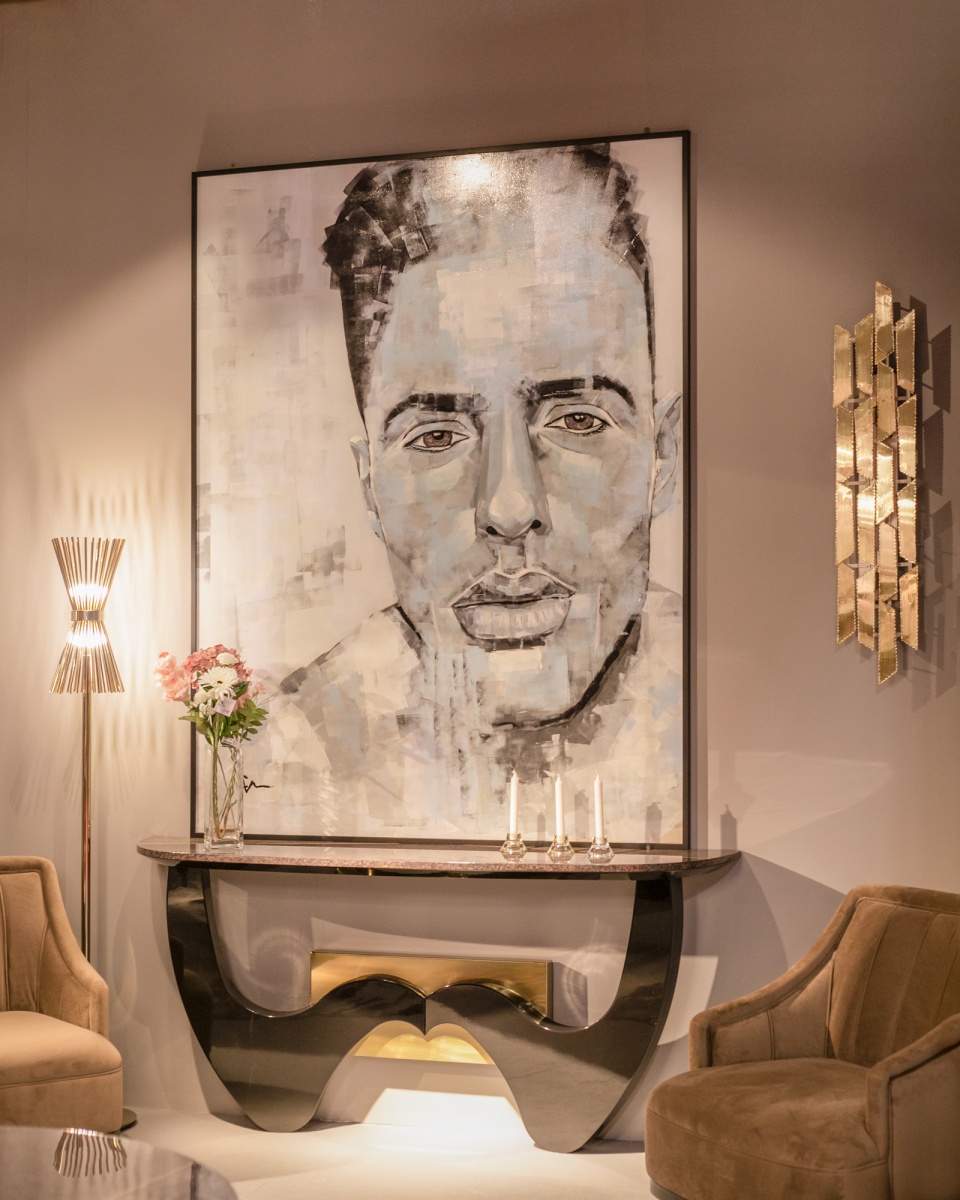 Interior by Aldo Manzoni feat. Liberty wall light
5. HOPPER ART LIGHT
Hopper Collection was inspired by the American painter Edward Hopper as it represents the artistic side of life. Functional and perceptive the Hopper Art Light has a captivating linear design. It fits in any ambiance, creating an explosive movement of light, as it reflects the gold accent of the piece.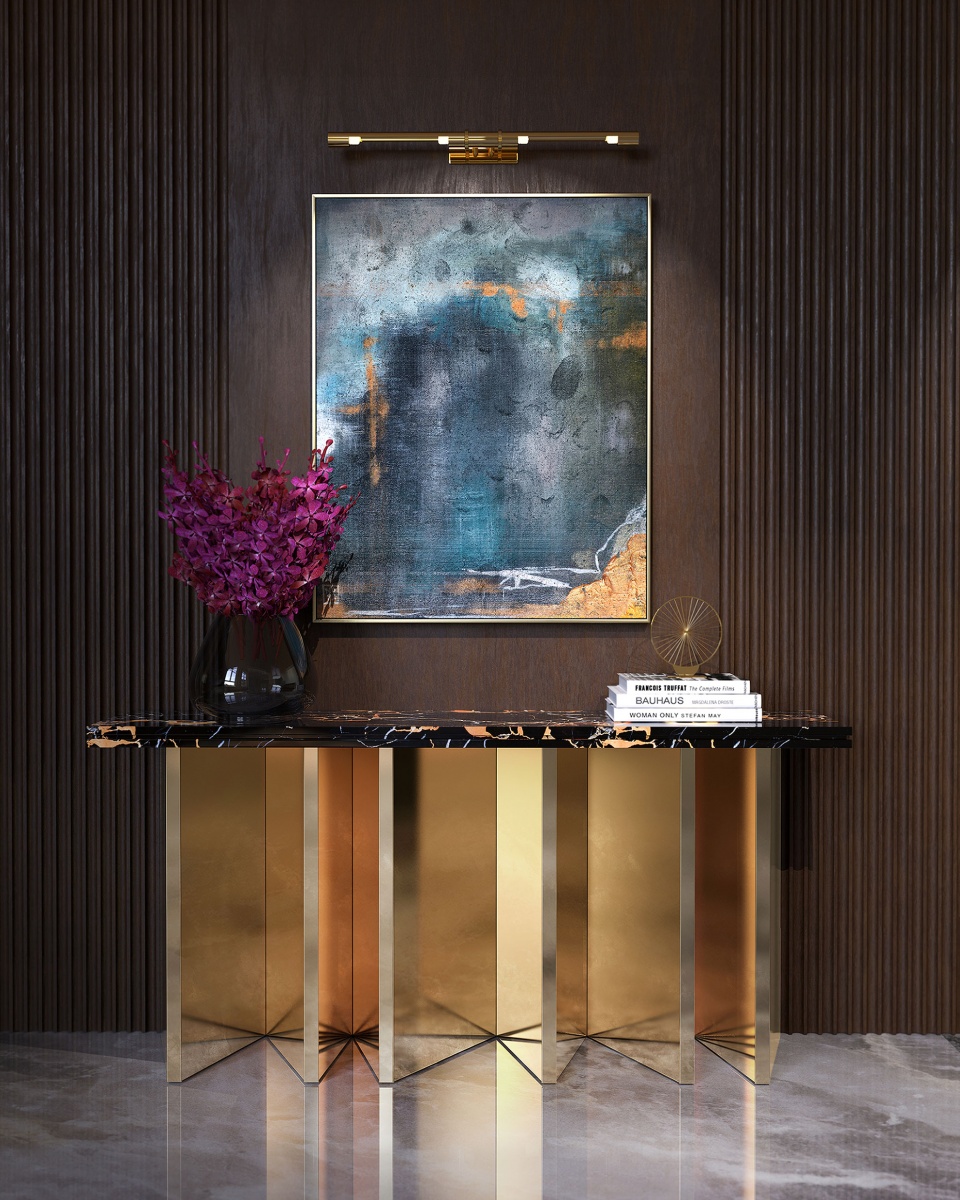 Made of gold-plated brass, this modern top light is an embodiment of finesse, complexity, and attention to detail. An admirable collection designed for the most exquisite and creative minds. Capture the attention of the guests with this handmade art light, designed to fill interior projects with graceful pieces. This art illuminating fixture can also be used to decorate luxurious bathrooms together with a mirror to will shape a golden aura.
6. SKYLAR WALL LIGHT
Skylar Wall Light is a stunning glass and brass sconce that is a "one in a million". Designed to impress, it brings a special allure and refined lighting detail to the most exquisite interiors. The artistically fulfilled lighting fixture is made of brass with a gold-plated finish, visually intercalated with mesmerizing glass.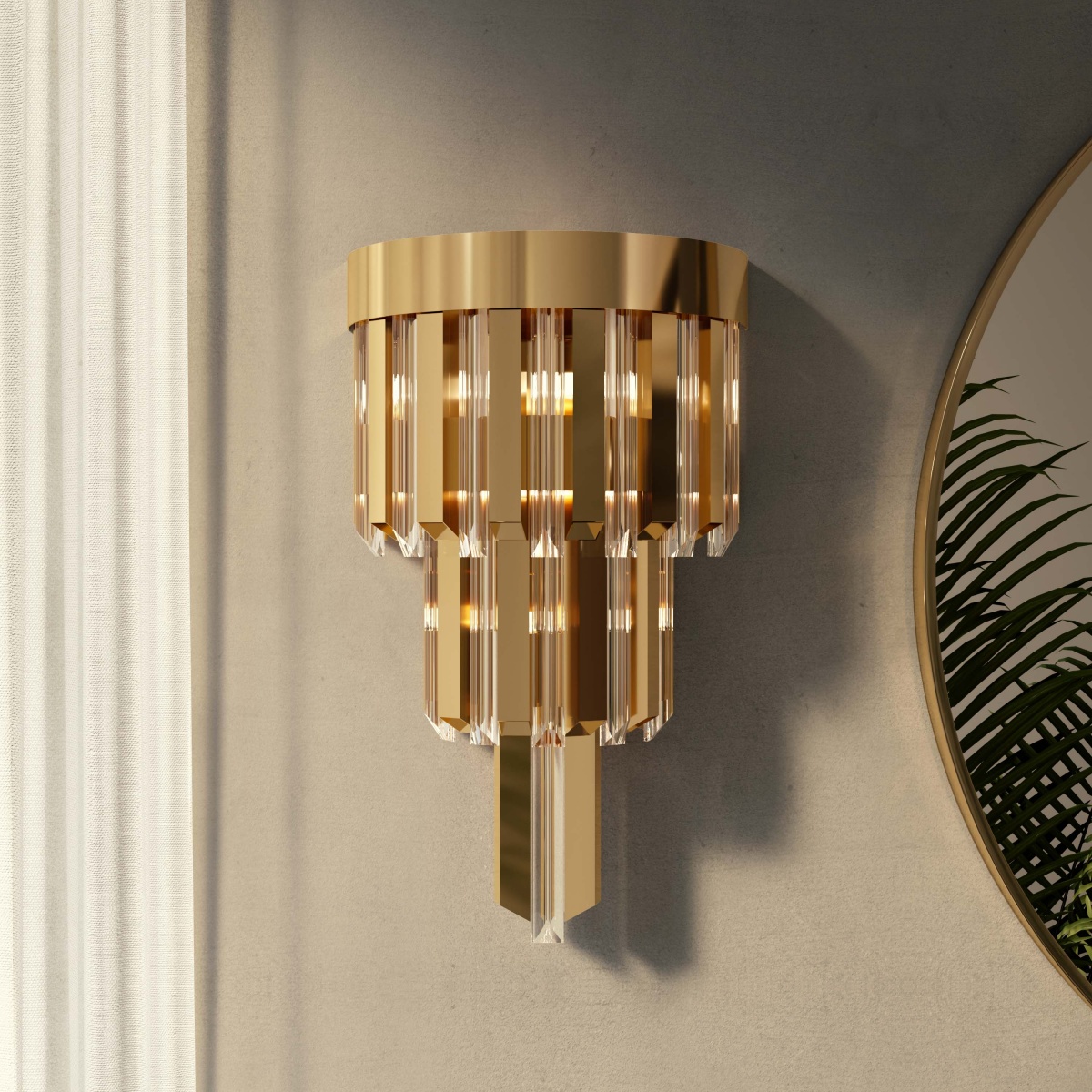 7. HALMA WALL LIGHT
Halma Wall Light was designed to celebrate the fusion of noble materials as well as simple and delicate geometry. Made with a structure of brass involved by clear glass, this design unpredictably fuses the two materials effortlessly and originally, granting it a cohesive and deluxe look. An extremely versatile lighting fixture with exclusive beauty and elegance.
8. RIVIERA WALL LIGHT
The Riviera gold Wall Lamp takes you on a daydream journey of contemplating an amazing painting on a wall of a French Riviera resort: just the right amount of light to make the ambiance feel exceptional and embracing. Composed of a rectangular-shaped gold-plated brass plate - hammered by hand with modern handcraft technics – placed in the center of a semi-circle that allows warm light to spread through the slight space in between this wall light design. This luxury shade lamp is the right choice for a contemporary, mid-century modern, or modern interior style and it can fit any area of the house, is best used as the frame of an artwork piece.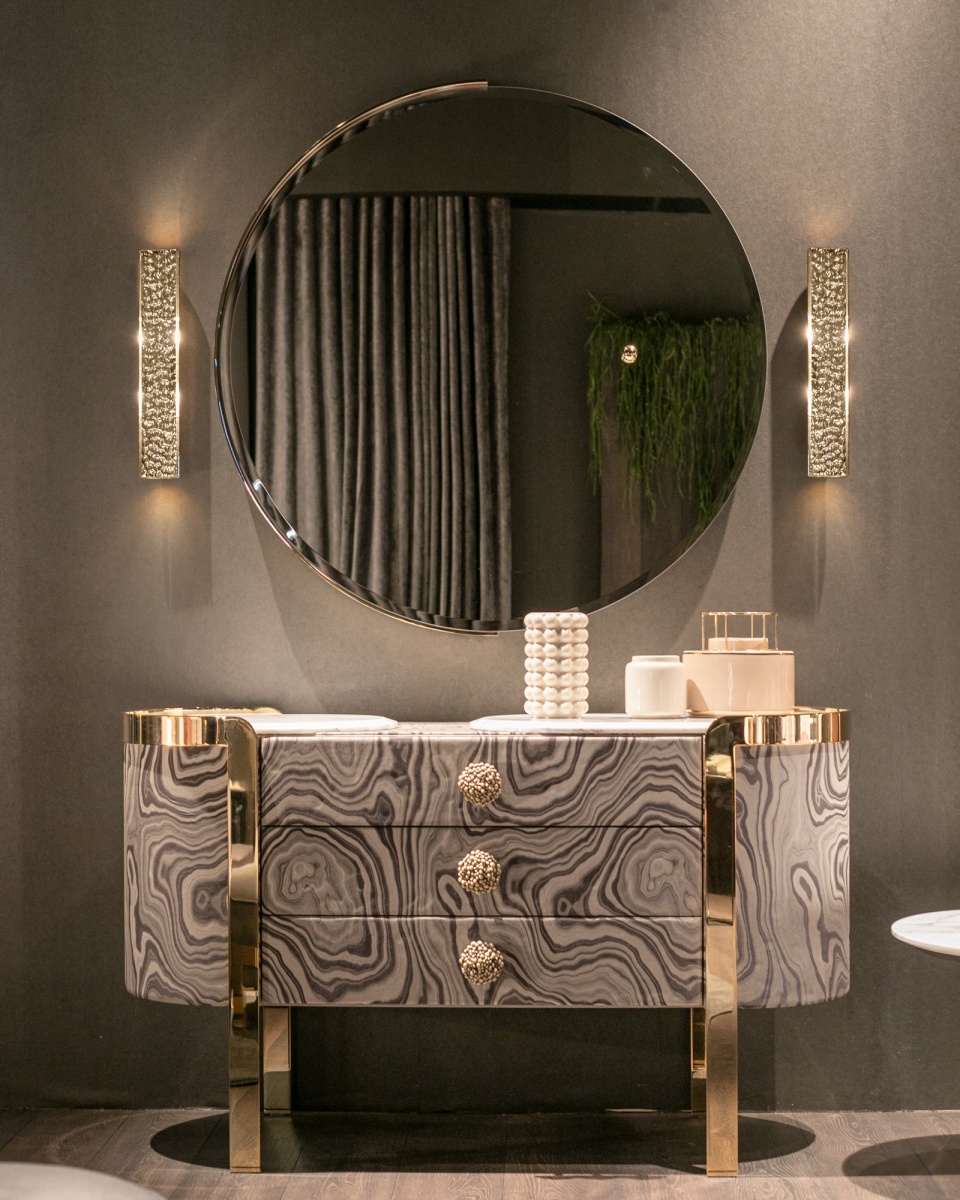 Interior by Opera Contemporary feat. Riviera wall light
9. ECLIPSE WALL LIGHT
The Eclipse Handmade Wall Light is named after the solar eclipse phenomena. Recreating this natural wonder, the Eclipse gold wall lamp is composed of two rounded brass plates, placed in front of each other, with a slight distance between them, only allowing little crescents of light to shine through. The front plate is hammered by hand, using modern handcraft technics, that reflects in the shining gold plated plate in the back. With touches of modern, contemporary, and mid-century modern styles, the luxury shade is the perfect fit for a hallway, bedroom, living room, or dining room, its warm light brings a calm and relaxing ambiance.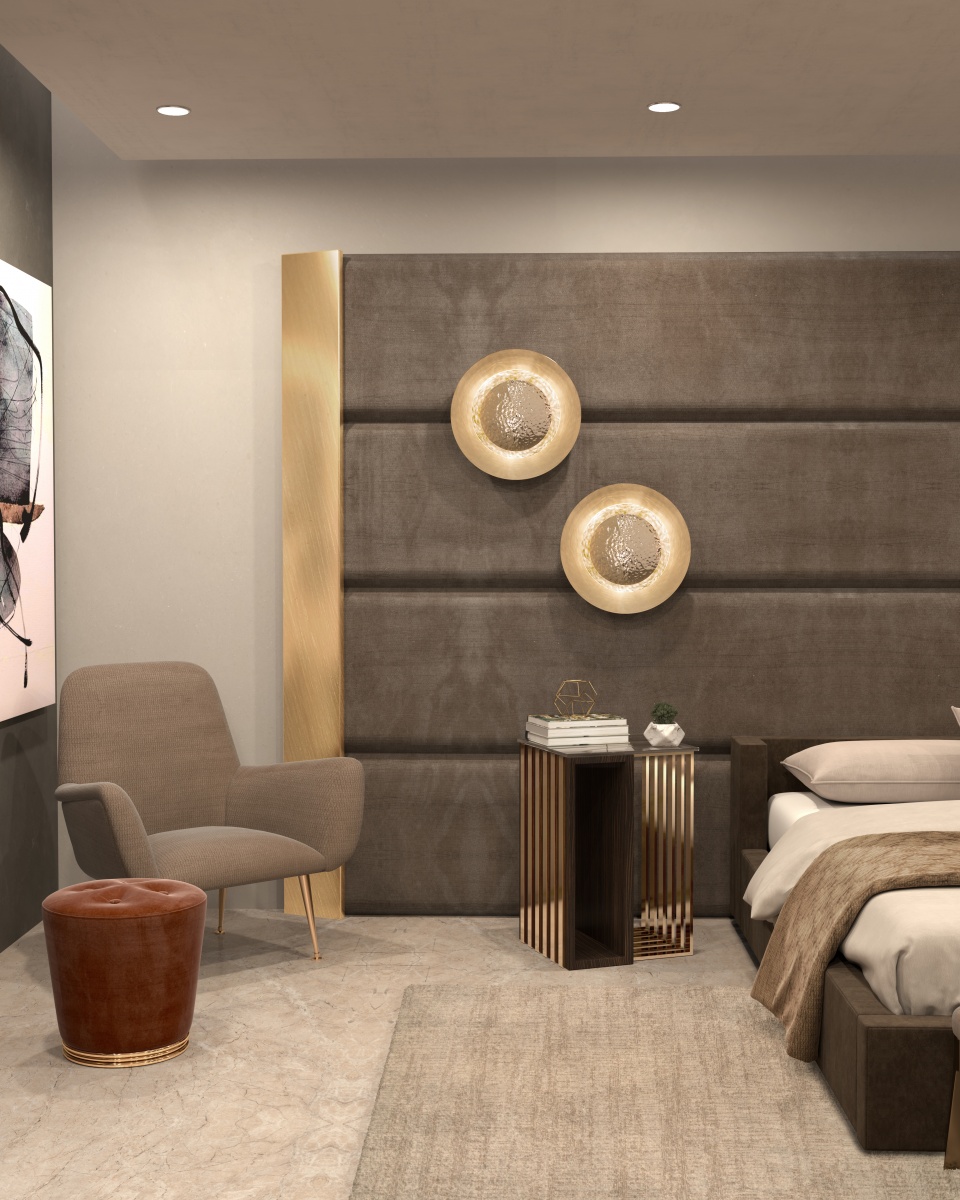 10. ARCADE WALL LIGHT
The Arcade Wall Lamp may be an intriguing lighting solution for the most demanding tastes to place particular emphasis on the decor. Gold-plated brass, masterfully combined with mesmerizing glass, provides an aerial atmosphere, full of bright and playful shooting amber rays of light. This opulent lighting fixture brings sensuality and a state of tender contemplative attitude and openness. A soft light that transmits class and purity to every space. It is a perfect match for different types of interiors: either classic or modern.